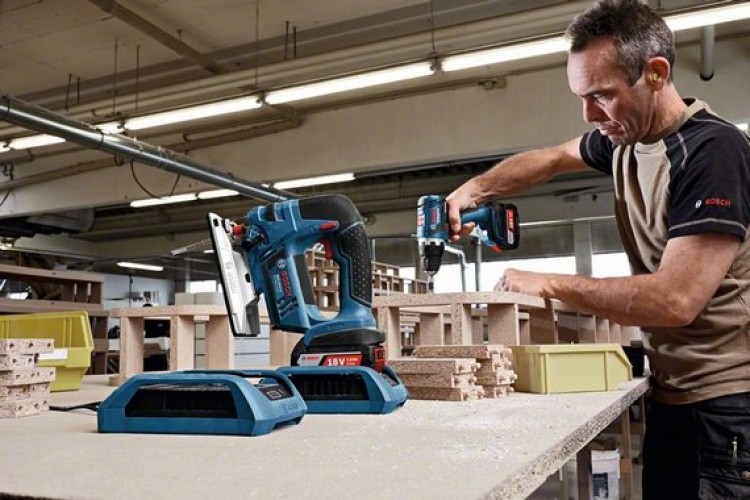 Bosch's wireless charging system uses inductive energy transfer to keep cordless tools powered up, similar to a contactless electric toothbrush charging station.
Whenever the tool is not being used it should be placed on the charging unit in the user's work station. Tools can be left on the charger indefinitely or placed there for just a few minutes at a time between jobs.
Bosch says the benefits are not just the avoidance of down-time but also in battery costs, as only one is needed for each tool. The expense of repairing or replacing equipment damaged by water and dust is also avoided, as there are no vulnerable electrical contact points.
"As an innovative market leader, we understand the problems facing professional power tool users and we are always looking for new ways of solving them," said Steve Hillier, marketing director at Bosch Professional Power Tools.
"A particular issue we've identified is a form of stress which we call 'charge anxiety', where workers and their employers worry that tasks may be made more difficult, and valuable time may be lost, through charge running out at the wrong moment. With our wireless charging system we can remove that concern and ensure non-stop productive action."

He predicted: "Standing the tool on the charger whenever there's a gap in a job will become a natural part of the work flow, and continuous availability of power will be assured. There will be no worries over the safety of the charging equipment, even in wet or dusty work stations. And there will be no need to buy, charge, store, seek or swap spare batteries, as only one battery is needed and it remains in the tool even when charging."
For the system's UK launch, Bosch has developed two products: the GAL 1830 W Professional battery charger and the GBA 18 V 2.0 Ah MW-B Professional 18 volt lithium-ion battery. The charging kit comes with a mounting frame for attachment to benches or shelves.
The system detects the battery state and selects the optimum charging mode so there is no risk of overcharging, Bosch says.
Got a story? Email news@theconstructionindex.co.uk