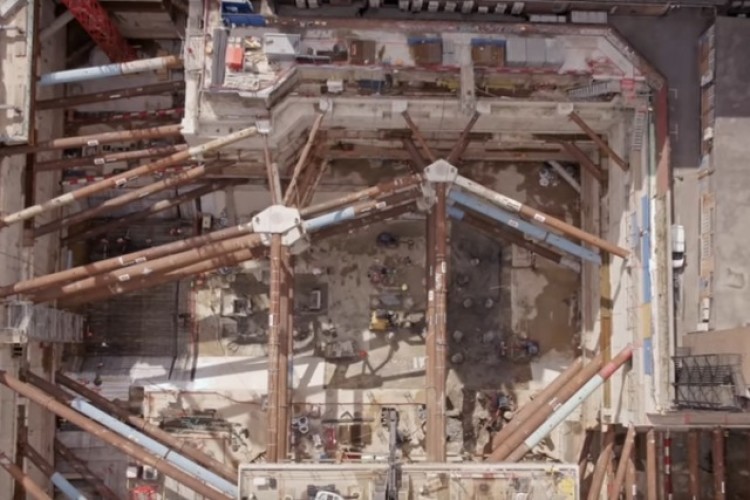 The pit, excavated by McGee for main contactor Bouygues, goes five storeys below ground to a depth of 28.5 metres, making it big enough to contain the Royal Albert Hall.
The new basement runs 87 metres long by 67 metres wide. 80,000 cubic metres of ground has been removed from the site. It will house multi-storey gantries for the proton beam therapy equipment, two mechanical & electrical plant levels, two floors for patient proton beam therapy care, and eight surgical theatres.
Above ground there will be six storeys that will house Europe's largest centre for the treatment of blood disorders.
Proton beam therapy is a form of radiotherapy used to treat cancer which can be targeted extremely precisely, causing minimal damage to surrounding tissue. It has been offered overseas to NHS patients who are eligible for treatment in England since 2008 in a programme that has to date supported approximately 1,000 patients.

Together with the Department of Health, NHS England is funding the development of two centres at The Christie in Manchester and University College London Hospitals NHS Foundation Trust for NHS patients to be treated in the UK. Patients are due to be treated at The Christie from summer next year, with UCLH following in summer 2020. When complete they will each treat up to 750 patients every year.
Fabienne Viala, chairman of Bouygues UK, said: "This is exactly the kind of project we relish. The complexity of undertaking London's biggest excavation within a tight site at the heart of central London enables us to add value through our technical knowledge and the infrastructure expertise of our colleagues within Bouygues Travaux Publics. This is no ordinary project: as well as being an innovative and complex build, the finished development will have the potential to improve and even save the lives of those suffering with blood disorders and complex cancers."
The project team includes:
Scott Tallon Walker Architects – architect and lead consultant
Campbell Reith – structural, civil, geotechnical and environmental engineering consultant
WSP – mechanical, electrical, and plumbing design and the interface with the different contractors.
McGee –bulk excavation and main propping of the centre.
Fayat Piling – piling and diaphragm wall
Reach Active – service diversions and utilities
Got a story? Email news@theconstructionindex.co.uk