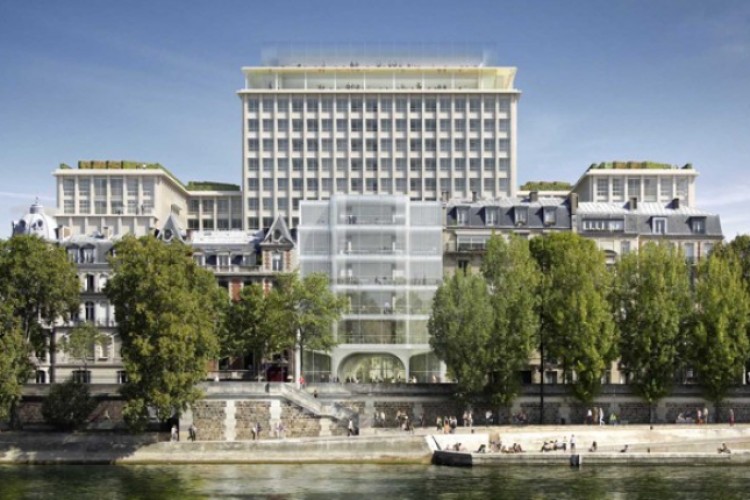 Emerige has chosen Bouygues Bâtiment Ile-de-France to renovate 17 Boulevard Morland in the 4th arrondissement. The €146m (£131m) Morland Mixité Capitale complex has been designed by David Chipperfield Architects and CALQ Architecture. It will incorporate a 161-room hotel, a youth hostel, shops, a nursery, cultural amenities and almost 200 homes.
The terrace of the 50m building, known for offering one of the finest views of Paris, will feature a structure - designed by the artist Olafur Eliasson in conjunction with Studio Other Spaces – that plays on optical effects and 360° reflections.
The complex is intended to function like an urban neighbourhood. The dual-aspect ground floor, which will be open to the public, will be landscaped and will contain a number of shops as well as a food market.

Bernard Mounier, CEO of Bouygues Bâtiment Ile-de-France, said: "Morland Mixité Capitale, one of the flagship sites of the 'Reinventing Paris' initiative, spotlights Bouygues Bâtiment Ile-de-France know-how in meeting the challenges of mixed uses and energy management in carrying out one of the capital's largest mixed-use developments, which will provide Parisians with an innovative living area."
The complex will straddle line 7 of the metro; the buildings will stand on "stilts" consisting of arches in architecturally exposed concrete cast on site. Other aspects of the project include the  creation of four basement levels in the former Île de Louviers. Beyond the technical aspects of the project, the teams will also have to contend with heavy road traffic. Bouygues Bâtiment Ile-de-France will be using its Rénovation Privée logistics platform, inaugurated in April, to meet the challenges of urban logistics, improve the management of work flows on the site and reduce the environmental footprint.
The project is due to take 29 months, with up to 665 people working on site at peak periods.
Got a story? Email news@theconstructionindex.co.uk