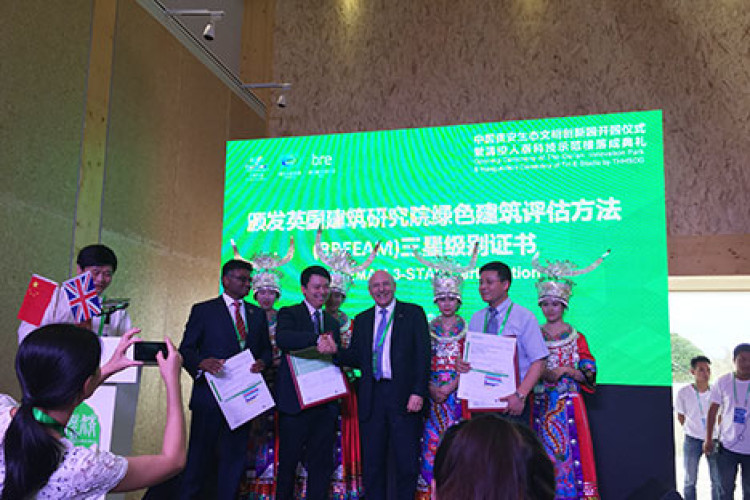 The new Innovation Park was officially launched last week by BRE and its partners in China. The project is the result of the collaborative efforts of BRE, Tsinghua Holding Human Settlement Construction Group (THHSCG – part of Tsinghua University in Beijing) and Gui'an New District Area's local government. Its aim is to support the Chinese government's drive for sustainable community development and air quality improvement.
The project has been inspired by the original Innovation Park in Watford, created by BRE in 2005 to give UK architects, developers and their supply chain the chance to try out innovative approaches to sustainable design and construction.
Governor Ma of Gui'an New District and UK Special Envoy for Sustainable Urbanisation to China Sir Michael Bear also opened the Park's first demonstration green building – a visitor centre designed and built by the THHSCG.

Sir Michael Bear said: "I am delighted to be opening The studio, a magnificent visitor centre designed to meet both BREEAM and China's 3-Star standards. This partnership, which brings together academic, policy and commercial expertise, is exactly the sort of thing we are keen to encourage more of between the UK and China. I'm sure that the Gui'an Innovation Park will provide an excellent foundation for even greater collaboration between our two countries."
Speaking at the Park's launch, BRE China Director Jaya Skandamoorthy said, "Li-Keqiang, now the Premier of China, visited the original Innovation Park as part of a trade mission in 2011. He was inspired by the volume and quality of innovation in the buildings, and their materials and technologies. The Gui'an project is a direct result of that visit and will help to inform the urbanisation strategy for both the Gui'an New District and western China – it is a very significant project."
Work will follow on a number of other demonstration buildings, including the 88 Kilometer House, a project that aims to source all of its construction materials from within an 88km radius of the building. A further ten demonstration buildings are planned for the 35-acre site, and organisations are invited to participate in these projects and support the knowledge exchange and further strengthen the partnership between China and the UK.
Got a story? Email news@theconstructionindex.co.uk