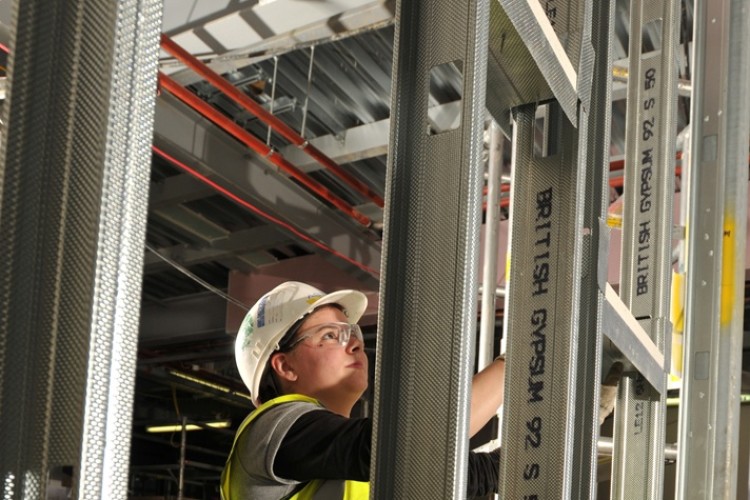 Tested and approved by the BRE, this innovative design enhancement promises to drastically cut the volume of metal and plasterboard waste on site. The new design builds on and enhances previous work by UK based plasterboard manufacturers. It will reduce the cost of materials and increase the productivity of labour during the internal fit-out phase of a construction project, cutting disposal costs and reducing material wastage. It will also have a marked effect on site safety.
"Traditional door openings involve positioning a plasterboard sheet half way or fully over the door position and then simply cutting out the required opening. This results in large off cuts," explains Dominic Tutt, managing director of Astins, "Our new BRE Approved door design will significantly reduce the amount of metal and plasterboard waste generated, by positioning full sheets up against the studs at each side of a door opening and using an off cut from elsewhere above the door. This is great news for the environment and brilliant news for our cost-sensitive customers. And because of the configuration of the new design, it will be a lot safer to construct"
Every year construction and refurbishment projects generate some one million tones of plasterboard waste. The result is high waste management costs and hefty environmental impacts.
Construction waste and in particular excess plasterboard is a key issue for Astins, which takes its environmental responsibilities very seriously. Recent European legislation has made it increasingly expensive and more difficult to dispose of plasterboard waste at landfill sites.

Contractors are now obliged to sort and process this type of site waste themselves. In developing design details to reduce the amount of cutting needed to form door openings, the levels of material waste created on site can be lowered by 20%. This in turn reduces the cost of disposal and lowers the embodied carbon emissions on a project.
Legislative, environmental and cost drivers all compound to present a real challenge to main contractors. Astins' in-house technical design team is able to apply its deep expertise to develop a value engineered approach to any scheme, helping to overcome these issues for its clients.
To find out more contact Dominic Tutt at Astins on 0845 260 9401
Got a story? Email news@theconstructionindex.co.uk