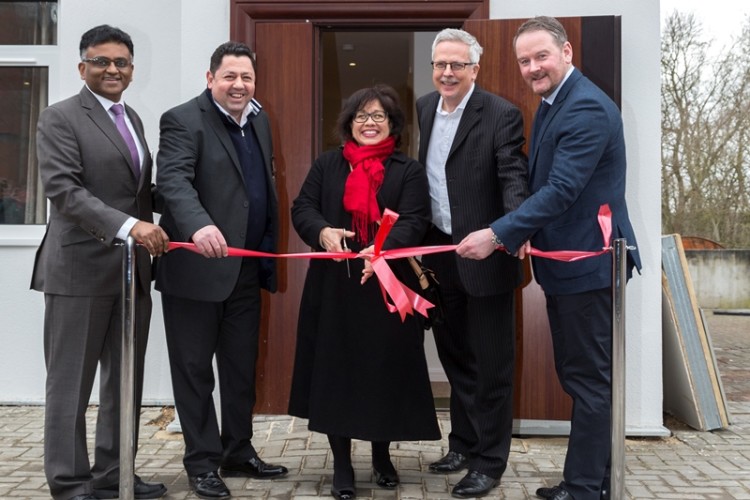 Jihad Saleh and Haitham Sabrah, two of the four partners whose signatures are on the registration document for Trillium Homes Construction LP, were disqualified for seven years by the Insolvency Service in October 2017 for failing to keep proper business records at a previous failed business.
They were the directors and owners of Fly Salone Airlines Limited, set up to operate flights from London to Sierra Leone. The company traded for four months, from 11th December 2015 to 17th March 2016. On entering liquidation, £2,072,180 remained outstanding to the company's creditors.
Haitham 'Sam' Sabrah, 48, is British and lives in London. Jihad Saleh, 50, is from Sierra Leone and his address varies in Companies House filings between London and Freetown in Sierra Leone.
Fly Salone Airline was described by the Sierra Leone Telegraph as "a criminal disaster waiting to happen".
The subsequent UK directors' ban is not the first time that the British authorities have intervened in the affairs of the two men.
In November 2016 JHS Construction Ltd was incorporated with Jihad Saleh and Haitham Sabrah listed as directors and 50/50 owners. There is no evidence that JHS Construction Ltd ever actually built anything before Companies House gave notice on 6th February 2018 that it was to be struck off the register and the company dissolved under Section 1000 of the Companies Act 2006. This law gives the registrar power to strike off a defunct company if there is no sign of it actually engaging in any business.
There is a pattern. Sabrah and Saleh set up Starex Exploration & Mining Ltd together in April 2013 but it was struck off the following year under the same Section 1000 of the Companies Act 2006.
Haitham Sabrah was sole director of Sierra Airlines Ltd, incorporated in March 2016, compulsorily struck off the following year. BGS Intl Limited was incorporated by Sabrah in 2011 and dissolved in March 2013 on the same basis. S.L Arlines Ltd, Sierra Bird Ltd, Sierra Airlines Ltd and Air Salone Ltd also all swiftly came and went, dissolved via compulsory strike-off by the registrar under Section 1000.
A third signatory to the certification of registration of Trillium Homes Construction LP is Richard Beresford, a solicitor who co-founded law firm McCarthy Denning in 2013.
Beresford previously teamed up with Sabrah in 2013 to set up Sabford Mining Ltd (company number 08603697). Each was listed as a director and co-owner on Sabford Mining's certificate of incorporation, holding one share each. In November 2014 Companies House registrar gave notice that it was being shut down, again under Section 1000 – lack of activity.  The company was dissolved via compulsory strike-off in February 2015.

The fourth partner in Trillium is listed as Cygnet Construction Limited, authorised by the signature of G. Abella.  Luton resident Gaetano Abella, 57, set up Cygnnet [sic] Construction Limited (company number 10724509) in April 2017. Cygnet Construction Ltd (company number 10303870) appears to be a separate and unrelated company.
The Companies House registration for Trillium Homes Construction LP gives its address as "c/o BRE, Bucknalls Lane, Bricket Wood, Watford WD25 9NH".
BRE, however, says that it has no commercial involvement with Trillium Homes. It has hosted Trillium's prototype on the same basis that it has hosted other research projects.
A spokesperson for BRE explained: "The Trillium House is an experimental home erected on the BRE Innovation Park to learn about whether and how this type of building approach may be developed further. BRE does not have any form of ownership or JV with this company or any form of ongoing revenue sharing which is the same as all the projects that come on the Park."
She added: "The company we have the contract with to host the prototype home is Trillium Homes Ltd. It is owned by Richard Beresford who is a solicitor at McCarthy Denning and the company is registered at c/o McCarthy Denning, 49 Queens Victoria St, London, EC4N 4SA."
Trillium Homes Ltd is indeed registered at Companies House with Richard Beresford as sole owner, incorporated back in January 2017, with no mention of Haitham Sabrah or Jihad Saleh. Trillium Homes Construction LP was registered much later in the day, on 21st February 2018.
The BRE said that it had been completely unaware of the existence of Trillium Homes Construction LP, despite it being registered 'care of' BRE's address.
Haitham Sabrah's involvement in the BRE show home is confirmed by the photograph at the top of this article that shows him (second from the left) helping to cut the ribbon at the official launch this week, along with Richard Beresford (second from right), standing either side of Ivonne Higuero, director general for housing and land management at the United Nations Economic Commission for Europe.
Richard Beresford has been contacted for comment and any necessary clarifications.
Got a story? Email news@theconstructionindex.co.uk