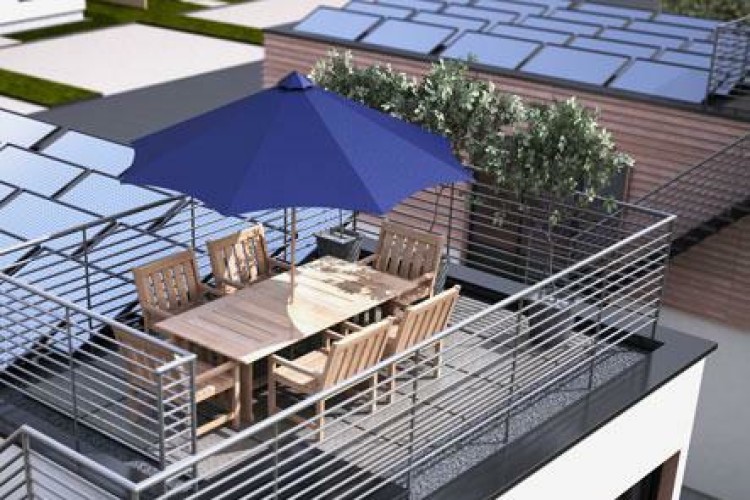 During a trade mission to China this week, Scotland's first minister Alex Salmond and BRE director Rufus Logan attended a ceremony where Applegreen Homes unveiled the design for 'The Scottish House'. The event took place at the Beijing Green Building Park, part of the BRE Innovation Parks Network.
Applegreen's three-bedroom detached home for the future highlights the work of Scottish interior designers and structural engineers plus furniture, textiles, cladding options, windows and doors. Amongst other things, it features a solar energy package that has benefited from research at Glasgow Caledonian University.
Rufus Logan, director, BRE Scotland said: "Applegreen Homes is one of BRE Scotland's key build partners on the BRE Innovation Park at Ravenscraig and I am delighted to be working closely with the company to access the huge market opportunity in China via our partners on the China Green Building Park. BRE's involvement with research on projects linked to the parks in Beijing and Ravenscraig builds on the success of the original park in Watford and provides further opportunities for all companies involved in building the Scottish demonstration home of the future to exploit the huge opportunities in China. Given that approximately 10% of homes in China are classed 'high end', built to mainly European designs in a country with a population of over 1.3billion, this represents a major opportunity for Scottish companies like Applegreen."

Applegreen's energy-efficient home can currently be viewed at the BRE Scotland Innovation Park in Ravenscraig, at the centre of one of the largest regeneration projects ever seen in Scotland. The Park opened in 2012, with the aim of trialling and testing new ideas from architects, developers and manufacturers before they were applied to real communities.
Alan Wallace, CEO of Applegreen Homes, said: "We are one of a number of Scottish companies promoting its products and services to the Chinese market and we see this as a significant opportunity to showcase our Home for the Future to a multi-billion dollar market for high-end homes.''
Got a story? Email news@theconstructionindex.co.uk