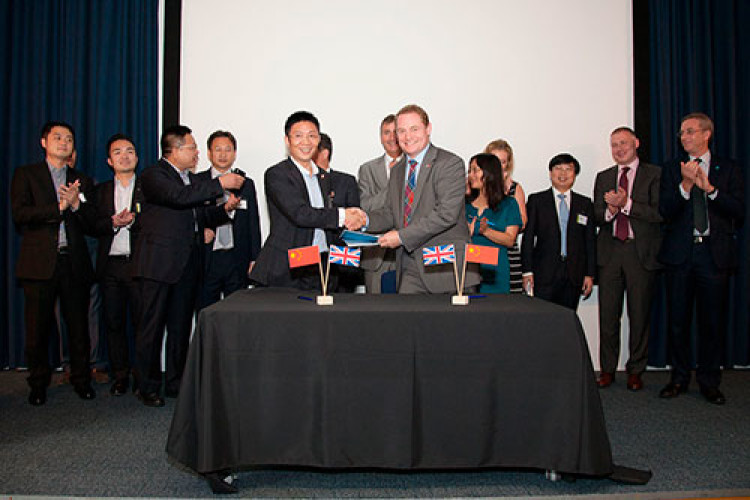 Hongsheng Construction & Investment Group has appointed BRE as chief sustainability advisor on a pioneering project to develop a major construction industry zone in ShangRao, , a major conurbation in Jiangxi province which. The opening later this year of a high-speed rail-link will make the journey time just 100 minutes from Shanghai.
The new zone will be used by operators committed to ongoing built environment improvements and is expected to house manufacturers, company headquarters and trading and service centres. It will also include residential accommodation, hotels, a shopping centre, conference centre and training centres. Hongsheng will develop several zones of this kind after the first zone is designed and built.
Founder and CEO of Hongsheng, Janhu Zhou said "we are delighted to collaborate with BRE and their key partners to shape the strategy for the zone, which will drive best practice in sustainable construction in the region.
Rufus Logan, director of BRE Scotland who signed the deal on behalf of BRE said: "We have been working with the Chinese government and other key organisations to support the development of local sustainable building frameworks in China. After seeing the technologies showcased on the UK BRE Innovation Park, Hongsheng are seeking to collaborate with some of the product manufacturers on this exciting project. We look forward to working with them and helping the development achieve its sustainable aspirations."


The Mayor of ShangRao, Junqing Chen added: "Working with BRE will enable us to share knowledge and expertise in sustainable building in order to drive innovation in China's construction industry. We hope to collaborate on the development of green building standards to embed sustainability across the construction industry zone and its supply chain."
The partnership follows a commitment made by Chinese premier Li-Keqiang to encourage in-depth collaboration between China and the UK on sustainable building development.
BRE will provide sustainability guidance in the planning phase for the construction industry zone in order to promote and enable sustainable development at every stage in the delivery process. Hongsheng Group has also enlisted BRE as key client advisor during the initial stages of the project to help arrange visits to construction material suppliers and product manufacturers through its network of industry contacts.
The aim is to use the project and the collaborations formed to work on other new eco developments within the city.
Got a story? Email news@theconstructionindex.co.uk