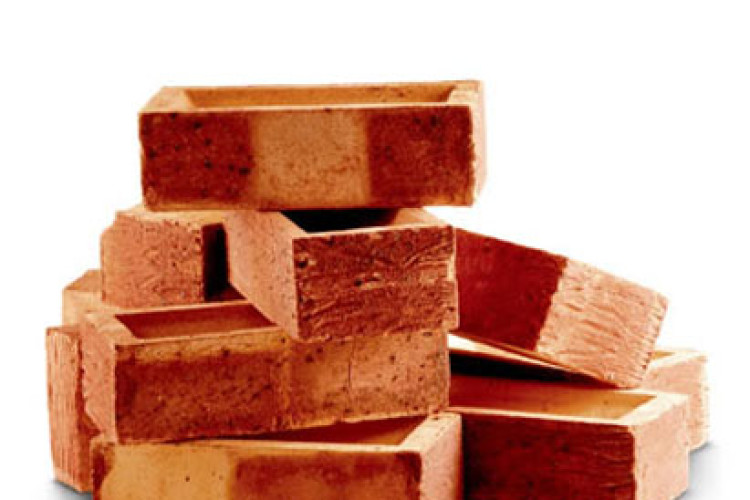 The Construction Products Association's 2018 winter forecasts predict a sharp decline in commercial construction; public housing repair work also continues to fall despite the works shown to be urgently needed in the wake of the Grenfell Tower fire.
The CPA says that the best that the construction industry can expect in 2018 is for growth is to remain flat, given the politically uncertainty of infrastructure work and the fall-out from Carillion's liquidation.
Any growth in construction at all will be reliant on government's delivery of infrastructure projects. If fully realised, this would result in a 6.3% rise in infrastructure work in 2018, CPA economists calculate. However, concerns for the industry escalated following Carillion's liquidation as the firm accounted for £850m of the sector's projects. The length of hiatus on Carillion sites will play a critical role on growth, and it is too early to tell what impact this will have on the 25,000-30,000 firms in their supply chain, CPA says.
Following the Grenfell Tower fire in June 2017, 160 social housing tower blocks were deemed unsafe and in need of work but there is little sign yet that money is being made available for this work. The public housing repair, maintenance and improvement sector has fallen 20% since 2010, and despite thousands of people still living in proven death traps, output is expected to fall by a further 2% in 2018.
The CPA expects that the sharpest decline for construction in 2018 will be in the commercial sector, particularly in the offices sub-sector as post-Brexit uncertainty stalls investment. Office construction is expected to decline 15% in 2018 and 10% in 2019; this will get worse if firms choose to move operations out of the UK into remaining EU member states.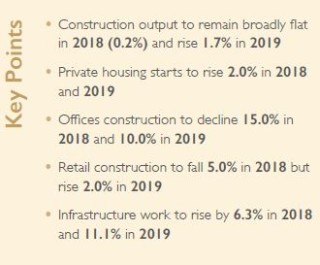 CPA economics director Noble Francis said: "Recent construction output and Markit/CIPS data have already highlighted subdued activity in the construction industry and our latest forecasts suggest that 2018 is likely to be tough for the industry. Overall, we are forecasting construction output to remain broadly flat this year but this is before the full impacts of the liquidation of Carillion in January feed through the supply chain and government will need to take a key role in mitigating the effects as it has already done on the services part of Carillion.
"Infrastructure activity is still expected to grow by 6.3% this year if politicians are able to deliver on their many announcements of major projects and spending across roads, rail and energy. Government will also need to help councils with funding to address issues on social housing towers above 18 metres since the Grenfell tragedy. Output in public housing repair, maintenance and improvement has already fallen each month since the tragedy and, without assistance, will fall 2% this year.
"Output in the commercial sector, the second largest construction sector, is expected to fall during 2018, primarily driven by a fall in demand for new office space, particularly within London. We expect offices construction to fall 15% this year as Brexit uncertainty means that international investors hold back on major new investment in high-profile space in the capital."

However, the Construction Industry Training Board (CITB) is much more upbeat, predicting average industry growth of 1.3% over the next five years
The CITB's forecasts are published within its 2018 Construction Skills Network (CSN) report, which sets out its expectations for the industry's employment needs.
It says that 158,000 construction jobs are set to be created over the next five years, including 15,350 carpenters and 9,350 labourers.
However, these numbers are significantly down on its 2017 forecasts, which predicted 1.7% growth over the five-year period and 179,000 jobs to be created.
The 2018 CSN report has private housing expanding 2.2% over the next five years and public housing up 2.8%
However, like the CPA, it is also sees Brexit stalling commercial building work. "The commercial sector is not predicted to grow at all over the next five years, as investors potentially hold back decisions due to Brexit uncertainty," the CSN report says
With the overall growth predicted by the CITB, construction industry employment would reach 2.77 million in 2022, which is still 3% below the 2008 peak.
CITB policy director Steve Radley said: "Despite all the gloom around Carillion and uncertainty from Brexit, our report's message is that construction will continue to grow and create more jobs. Though growth is slightly down on 2017, it's looking more balanced with housing and infrastructure both expanding significantly. And the range of job opportunities is growing. While we need to bring in lots of people in the trades, the fastest growth will be for professionals at 7.8% and for managers and supervisors at 5.6%.              
"By 2022, employment will be in touching distance of the heady 2008 peak so we face a massive recruitment and training challenge, which is likely to get harder after Brexit. So while we can take some comfort from weathering the recent storms, it's vital that we make the investment in skills today that will shape our own destiny for tomorrow."
Got a story? Email news@theconstructionindex.co.uk