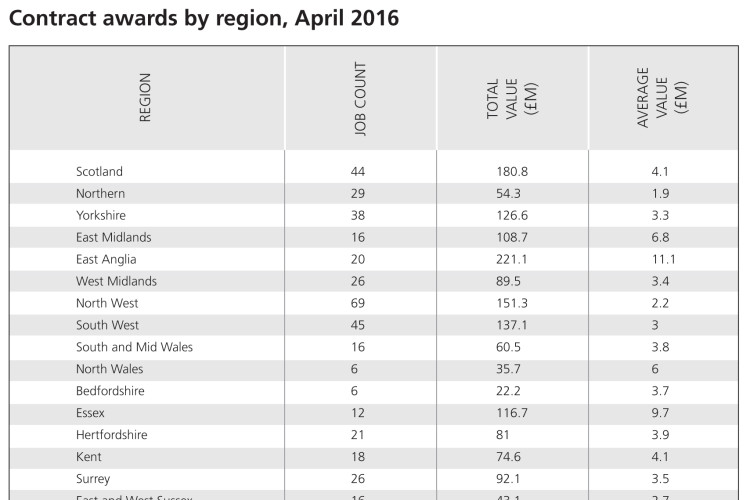 Since the beginning of this year our league table of new contract awards has averaged out at approximately £4bn per month. Sure, there have been minor fluctuations but, in the main, £4bn of new contract awards has become the norm. At the same time, we have grown accustomed to the top 10 companies on the table exceeding the £100m monthly tally with a regularity verging on the tedious.
But amid all the uncertainty surrounding the UK's future role in Europe (which, sadly, looks set to become a referendum decided purely on immigration) this now-familiar picture of a regular stream of new work flowing into the industry changed drastically this past month.
Only five of the Contracts League top 10 – Skanska, BAM, Kier Group, Brookfield Multiplex and Sisk Group – bagged more than £100m of new contract awards. Morgan Sindall, a veritable bellwether for the industry, slipped to 25th on the table with just seven new contract awards worth a combined £35m.
Meanwhile the monthly total barely scraped above the £3bn mark, driving the rolling year down to just above £51bn, seven billion pounds off its recent high.
In the midst of all of this, only Skanska had much to crow about, netting a £300m new-build contract for the Malaysia Square development at Battersea Power Station.
Kier Group crept into third place with 19 projects worth a combined £200m. Among these is a £19m deal for the construction of a new campus building at Truro & Penwith College in Cornwall.
Brookfield Multiplex stole fourth place thanks primarily to a £180m contract for the construction of the Marble Arch Tower, which comprises residential and retail space, offices and cinema.
Other contracts of note this past month include the £93m order secured by Berkeley Homes for the construction of South Quay Plaza at Marsh Wall which comprises apartments, penthouses, a residents' spa and a terrace on the 56th floor. Balfour Beatty, meanwhile, snagged a £82.5m order for refurbishment and repair works at RAF Marham near King's Lynn.

But a monthly Contracts League table does not a trend make. And while a 20% fall from an established norm is nothing to celebrate, it is merely a snapshot and – in itself – no cause for panic. What is more worrying, however, is the alarming slump in new tenders.
Throughout 2015, the industry was notching up anything between 750 and 1,000 new tenders each month. In 2016, the average has fallen to around 650. Worse still is the value of those tenders, which has fallen from around £4bn per month to around £2.5bn per month.
Channelling President John F. Kennedy, chancellor George Osborne espoused "fixing the roof while the sun is shining". We can only hope that he has practised what he preached as there is a potential storm brewing; a storm that might well continue blowing long after Britain goes to the polls to decide its European future.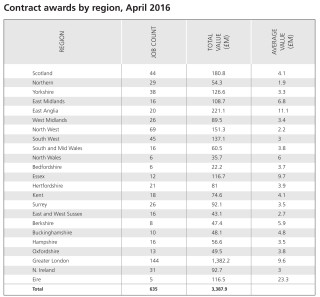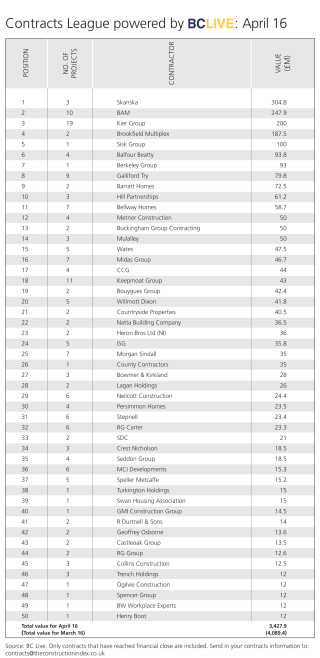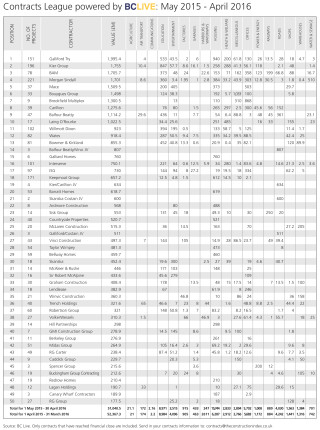 • Neil Edwards is chief executive of The Builders' Conference
Got a story? Email news@theconstructionindex.co.uk