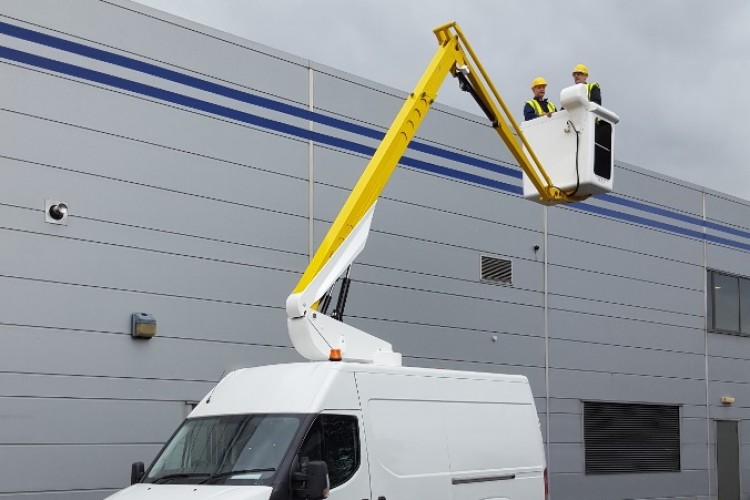 Morclad has bought a British-made Aldercote VZ140P for its growing vehicle-mounted boom fleet.
Mounted on an Iveco Daily 50C panel van, the Aldercote VZ140P provides 14-metres of up reach and a 250kg platform safe working load. By reducing the SWL to 120kg, it can deliver outreach of 9.3 metre. Automatic load/outreach optimisation ensures operation within a safe working envelope at all times.
The zero overhang boom design means there is no tail swing outside the existing footprint of the van and its stabilisers. Two of the tripod's legs incorporate independent, rotating stabilisers that use a direct load transfer system to transfer the platform load through the main column directly to the stabilisers.
Morclad director Tony Morris said: "We are delighted to be the first customer for the new Aldercote machines. It is great to be able to invest in a high quality boom lift that is designed and built in Britain."
Morclad operates vehicle-mounted booms with up to 23 metres working height. Its customer base includes roofing and building façade contractors, street lighting specialists and tree workers.
"The sweet spot for this machine is definitely street lighting as it is so quick and easy to set up," Mr Morris said. "The performance is far better than our previous 14-metre van mount. In particular the 250kg safe working load is a big benefit for us."
Pictured below is Tony Morris (left) receiving the first Aldercote van mount from Jonathan Wiseman of Aldercote's dealer, APS.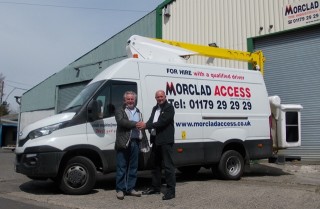 Got a story? Email news@theconstructionindex.co.uk