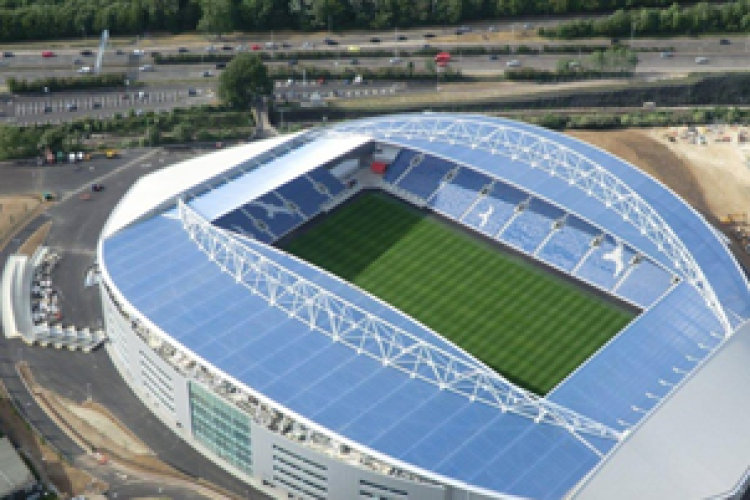 Three major sporting venues totalling £130m have been handed over by Buckingham Group Contracting in a period of only one month:
The American Express Community Stadium- £75.5m
The 'Silverstone Wing'- £27m
Olympic Handball Arena- £28m
Buckingham Group Contracting is delighted to announce the on time and within budget completion of their latest iconic sports venue, the American Express Community Stadium, which will be the new home for Brighton and Hove Albion FC.
The stadium, designed by architects KSS, will be officially opened on 30th July with Brighton as hosts to Spurs in a pre-season friendly match.
Buckingham Group's team has worked hard to complete this outstanding, 22,500 seat community stadium. The stadium having achieved a BREEAM Very Good rating has been handed over to the club, promoted as League 1 Champions, ahead of the start of their 2011-2012 football season in the Championship.
As well as staging football matches 'The AMEX' Stadium incorporates first class hospitality and banqueting lounges, and facilities for other sports and leisure activities such as rugby, hockey, music concerts, conferences and exhibitions, creating a hub for community learning and engagement.
American Express Community Stadium Facts and Figures
138,000 cubic metres of chalk was excavated to facilitate construction
The largest stand is the West Stand which will hold 11,833 spectators
The East Stand (the Family stand) will hold 5,404 spectators
The North Stand will hold 2,688 spectators

The South Stand, which will contain away supporters, will hold 2,575 spectators
The stadium has been designed for future expansion , with room for a further tier to be constructed above the East Stand which will increase the stadium's capacity to 30,000 seats
Rolling Shutter system which allows the club to open up parts of the 'away' end to fans when smaller clubs play at the AMEX stadium
'Warm up room' for players with 4G artificial turf
The Olympic Handball Arena was completed on time and within budget by Buckingham Group Contracting Ltd on 10th May.
The Handball Arena, a 6,500 seat capacity stadium which will host handball, goalball and modern pentathlon during the games and provide a multi-use sports centre after the games, features 3,000 m2of copper cladding to the top section of the Arena, of which 65% is recycled content.
The BREEAM Excellent arena also incorporates a rainwater harvesting system and unique naturally lit roof with 88 rooftop sun pipes.
Coming just a week after the handover of the fantastic Handball Arena, Buckingham Group handed over the Iconic 'Silverstone Wing' which was officially opened on 17th May 2011 by HRH The Duke of Kent and BRDC president Damon Hil, at a presentation ceremony attended by key figures from the world of motor sport.
The Silverstone Wing, designed by architects Populous, ensures that teams and sponsors are provided with world-class facilities, including new garages, a race control building, new podium, media centre, hospitality and VIP spectator zones.
With 4000m2 of glazed exhibition space, a conference centre with 2000m2 of flexible space and a 100 seat auditorium, this iconic building provides a wealth of possibilities to create unique and stunning events.
Paul Wheeler, Chairman of Buckingham Group Contracting Ltd said, "May-June 2011 will go down as one of the proudest periods in the history of the cmpany as we successfully complete and handover three major sporting venues! It makes us all proud to be associated with the successful delivery of three unique and iconic buildings. We can all look forward to more of the same in future.
Throughout these three developments, our dedicated teams have been fully committed to delivering what the Client wants within a fixed deadline.  The outstanding level of enthusiasm, commitment and team spirit from all of the staff and suppliers involved throughout the construction period on each of these challenging projects has enabled us to successfully complete a hat-trick of sporting venues within the period of only one month!
The successful completion and handover of the American Express Community Stadium, the 'Silverstone Wing', and the Handball Arena, highlights the success of Buckingham Group Contracting in safely delivering multiple, iconic, high profile and high quality sports developments for high profile sporting Clients on time and within budget".
Got a story? Email news@theconstructionindex.co.uk