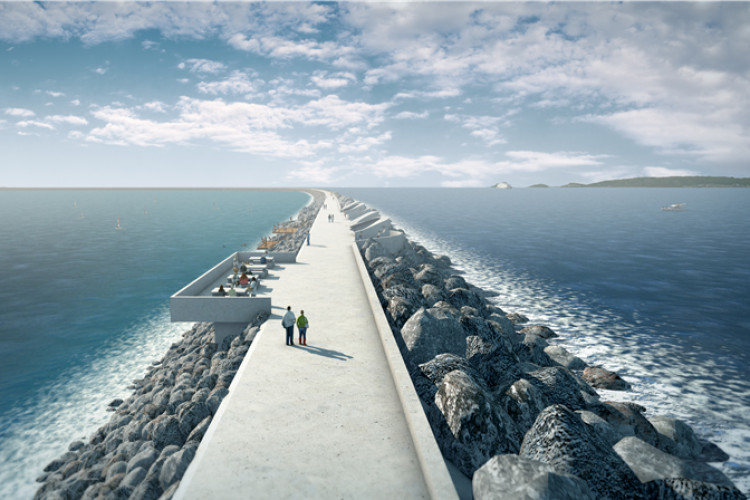 Chancellor George Osborne used the Swansea lagoon project in his 2015 budget statement as an example of measures designed to boost infrastructure investment.
Tidal Lagoon Swansea Bay plc is developing plans for what would be the world's largest tidal power plant. It involves the construction of a 9.5km-long sea wall around Swansea Bay to create a lagoon in the Severn Estuary. Turbines would harness the movement of the tide to capture enough renewable energy to power more than 120,000 homes for 120 years, the developer says.
As we reported earlier this month, the plan is then to develop larger tidal lagoons in Cardiff Bay, and then at Newport, West Cumbria, Colwyn Bay and Bridgwater Bay. Together, the national fleet of six lagoons could meet 8% of the UK's total electricity requirement for 120 years. [See our previous report here.]
However, financial viability depends on agreeing with the government a substantial strike price for the electricty, under the 'contracts for difference' mechanism. Tidal Lagoon Swansea Bay, the company behind the scheme, is reported to be seeking a guaranteed price of as much as £168 per MWh over a 35-year period, which is roughly four times the current market price of power. By comparison, a strike price for EDF's planned Hinkley Point C nuclear power plant has been set at £92.50 per MWh or £89.50 if and when a new Sizewell plant goes ahead as well.

The chancellor's statement that strike price talks have started has been taken as an indication of governemnt support for the project Institution of Civil Engineers Wales director Keith Jones said: "I am delighted to see the support for the proposed tidal lagoon in Swansea. Whilst there are many steps to be taken before this scheme can start, this is an excellent example of a project that could provide regular and predictable renewable energy.
"Wales has long coastline and the Severn's tidal range is the second highest in the world. The proposed lagoon presents a promising opportunity to capture the enormous potential source of sustainable energy from the sea."
Jon White, UK managing director of Turner & Townsend, said: "Plans for a tidal lagoon in Swansea Bay shows the government is committed to investing in cleaner energy with a steady move away from fossil fuels. If Swansea is successful, then with potentially more tidal projects coming on stream in the future, 10% of the UK's electricity needs could be met."
Cameron Smith, utilities partner at law firm Ashurst said: "Without political will, the project would have been a non-starter but the real test will be whether it can attract financing as a first of a kind project and there are significant technical and regulatory hurdles that the sponsors need to overcome before it becomes deliverable."
Got a story? Email news@theconstructionindex.co.uk