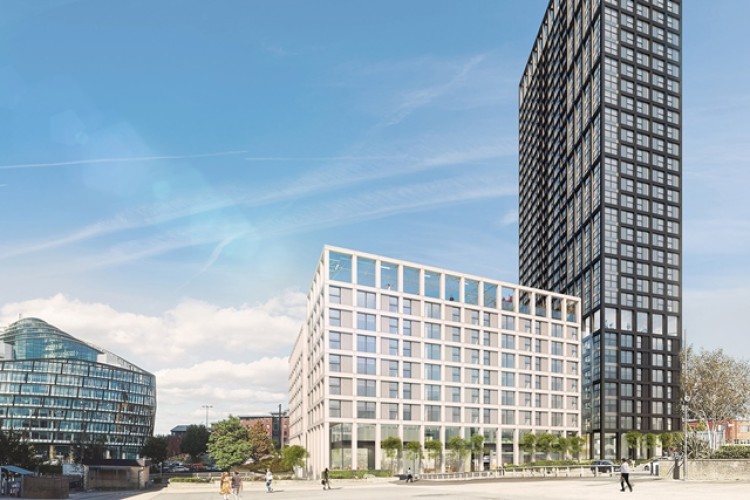 Caddick is a sister company of Moda, which is joint developer of the residential scheme with Apache Capital. Angel Gardens is one of the country's biggest residential schemes outside of London. The swift action to bring in Caddick saves around 500 jobs on site, protecting around 30 subcontractors previously working under Carillion before it entered liquidation on 15th January.
Caddick Construction will now act as construction manager and coordinate existing subcontractors across the 35-storey, 466-home build-to-rent (BTR) project.
Carillion started work on Angel Gardens in January 2016 but Moda and Apache Capital developed contingency plans last summer when Carillion's finances were first revealed to be precarious.
Richard Jackson, managing director and co-founder of Apache Capital, said: "It was critical to Apache Capital that, as soon as we became aware of financial difficulties of Carillion in summer 2017, we implemented our contingency plans to ensure that we protected the interests of our investors and banking partner PBB. As a result, no loss of money or time will be suffered, job security is ensured to former Carillion Staff, financial security on this project is secured for our sub-contractors and onsite works have recommenced within two weeks to minimise delays and we will continue to deliver the project within budget.

"Given the adverse circumstances this is a phenomenal effort by the wider team and underpins the quality of our partnership with Moda and Caddick Construction."
Caddick Construction commercial director Adrian Dobson said: "The fast and effective takeover of this complex project is testament to the strength and depth of our team. We are fortunate that our construction team has been able to step in and take this project forward within two weeks and are delighted that so many key Carillion employees elected to join the group, as this really strengthens our team in the northwest."
Director Johnny Caddick said: "The wider Caddick Group, of which Moda is part, has huge strength and cross-sector experience and a long-standing and deep-rooted relationship with the supply chain, and we look forward to being able to draw from its expertise. Moda has significant projects across the UK which shall continue as normal. We expect to start on site with a further four high quality build to rent schemes this year in Liverpool, Edinburgh Leeds and Birmingham."
Got a story? Email news@theconstructionindex.co.uk