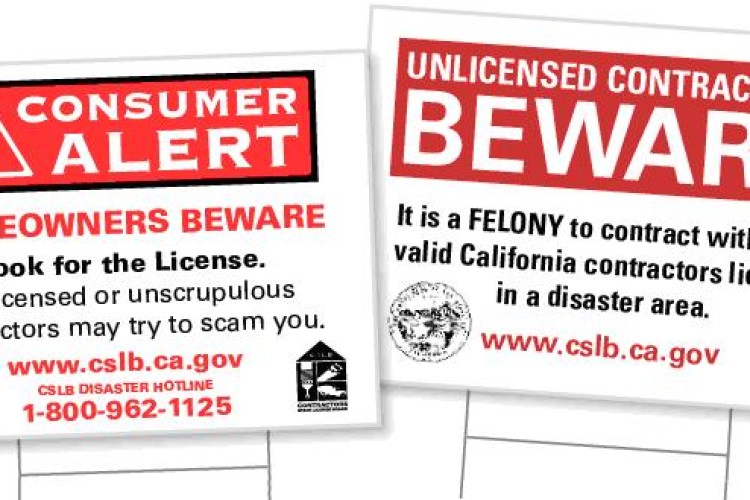 For a time, the home could have used a revolving front door, said the Contractors State License Board. Investigators issued a total of 25 'Notices to Appear' (NTA) in court to potentially face criminal charges.
The CSLB teamed with the Oakley Police Department earlier this month to conduct the undercover sting operation targeting suspected unlicensed contractors. CSLB's statewide investigative fraud team identified potential suspects in a variety of ways, including ads on several social media apps, and invited them to go out to a home to give a bid for the type of home improvement job they advertised.
In total, 24 of the suspects could be charged with a misdemeanor count of contracting without a licence. In California, a contractor licence is required for construction projects valued over US$500 for labor and materials combined. The penalty for a first-conviction includes up to six months in jail and/or up to US$5,000 in fines.
Bids received during the operation ranged from US$1,800 for new sod and concrete, to US$25,000 for installation of artificial turf, well over the legal threshold for contracting without a licence. Other bids included installation of new laminate flooring, pavers, exterior painting, and a full kitchen remodel.
Twenty-three of the suspects may also face a misdemeanor charge for illegal advertising. Unlicensed contractors can only advertise if the ad states that they are not a state-licenced contractor, and the type of jobs advertised for is worth less than US$500.

"Consumers should be sure to take some simple steps before hiring anyone to work in or around their home," said CSLB registrar David Fogt. "The fastest way is to make sure they have a state license, and to check the license status using CSLB's Instant License Check. They should also use CSLB's 'Find My Licensed Contractor' feature to download and/or print a list of qualified licensed contractors in their area."
Six of the suspects may also face a charge for requiring an illegally large down-payment. Down-payments for home improvement jobs in California cannot total more than 10% of the contract price, or US$1,000, whichever figure is less.
Three suspects who did not have a worker's compensation policy for employees were issued a 'Stop Order'. In addition, one suspect may be charged for working as an unregistered salesperson.
All suspects were ordered to appear in court on 3 December. The cases will now be forwarded to the Contra Costa County District Attorney's Office with a recommendation for criminal filings.
Got a story? Email news@theconstructionindex.co.uk