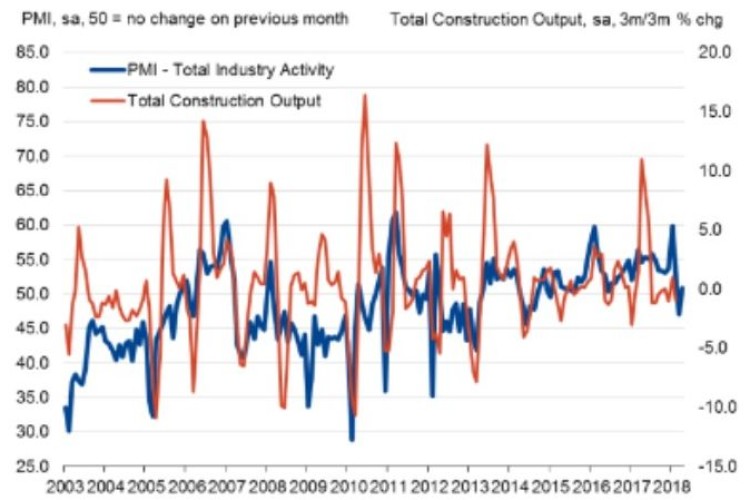 The severe weather had caused disruption to building work at the end of the first quarter. However, the rebound was relatively muted amid signs of stretched capacity at sites, with building companies taking on less new work due to full utilisation of resources.
Ongoing job creation and elevated business confidence nevertheless signalled that the sector remained on a strong footing, according to the IHS Markit Germany Construction Purchasing Managers' Index (PMI).
The headline seasonally adjusted PMI – which measures changes in the level of total industry activity compared with one month ago – rose to 50.9 in April, after having registered below the 50.0 'no change' level for the first time in over three years in March (47.0).
The latest reading was the second-lowest seen for just under two years, and it was indicative of a much slower rate of growth than that seen on average in 2017.
Of the three broad areas of activity monitored by the survey, housebuilding showed the steepest rise in April. However, in line with the broader trend, the pace of growth was subdued by recent standards.

Commercial activity showed an even smaller rebound, rising only marginally on the month. Civil engineering meanwhile remained in contraction, albeit with the rate of decline slowing compared with that seen in March.
The survey suggested that the rate of total activity growth was partly curbed by capacity constraints, with the opening quarter of 2018 having seen a surge in new orders that was the strongest in over 18 years of data collection. April saw order books fall for only the second time since late-2016, with some surveyed businesses reporting that they lacked the resources to take on more new work.
The rate of job creation was the strongest for three months and quicker than that seen on average over the current 34-month sequence of expansion. The quantity of building materials and components purchased by firms also increased at more robust pace in April.
Phil Smith, principal economist at IHS Markit said that the relatively subdued rate of growth was due to payback from the impressive sales volumes seen throughout 2017 and at the start of this year, with the industry now appearing to be operating at close to full capacity. "Average order book growth in the opening quarter was at a record-high, and although sales dipped in April, those firms that reported a decrease were still reporting offers to tender. Taking the first four months of the year together, the underlying trend in order inflows has been broadly in line with that seen during 2017.
"With the pace of hiring picking back up in April and constructors also scaling up their input buying, the sector's prospects still look bright. Business confidence has never been higher in the past two decades, though capacity constraints point to the sector remaining in a lower gear."
Got a story? Email news@theconstructionindex.co.uk