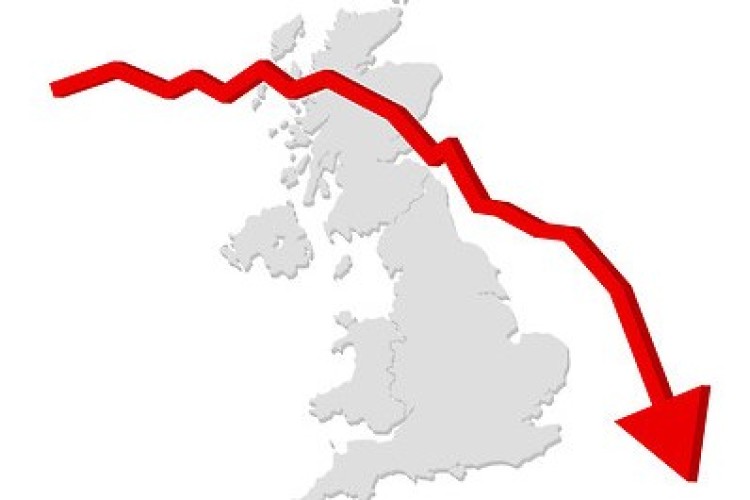 The Construction Products Association's quarterly survey collates the findings of various other trade associations to create a poll of polls for construction activity.
Its latest report says that although activity continued to increase for main contractors and SME builders, there was a smaller proportion of firms reporting a rise. Additionally, civil engineering firms reported a second consecutive fall in workloads and heavy side product manufacturers' sales, a leading indicator of structural and groundworks, fell for the first time in five years. On the upside, more than a quarter of firms surveyed expect orders, enquiries and product sales for the year ahead to remain positive, although contractors reported that orders were concentrated in the housing and infrastructure sectors. Combined, these sectors account for over 35% of total construction output.
According to the Office for National Statistics, Q1 construction output was £1.04 billion lower than in the previous quarter (2017 Q4).
Rebecca Larkin, senior economist at the CPA, said: "The industry's run of growth was halted by a quarter that combined the liquidation of Carillion and the snow disruption in February and March. Encouragingly, order books throughout the supply chain suggest activity will pick up again throughout the year. This appears to be driven by just two sectors, housing and infrastructure, which are reliant on a 'steady state' of government support. Private sector house building continues to benefit from Help to Buy, housing associations are commencing activity under affordable homes funding programmes and contract awards for major strategic infrastructure projects such as HS2 are lining up a pipeline of longer-term infrastructure activity."
Civil Engineering Contractors Association chief executive Alasdair Reisner said: "2018 has seen challenging market conditions in the UK's infrastructure sector, where the aftershocks of the Carillion liquidation continue to be felt. We believe there is more the government can do to support the sector, by committing to projects outlined in the National Infrastructure Delivery Plan and continuing to develop this pipeline to secure economic growth. At the same time, our members are reporting that they are expecting orders to turn into activity, as schemes come forward to market in the coming year. While the first quarter of 2018 has proved a challenging period for many of our members, we believe that there is light at the end of the tunnel, and that industry will act as a platform for secure growth in the coming years."
Richard Beresford, chief executive of the National Federation of Builders (NFB), said: "The CPA's latest construction trade figures indicate lower output in larger players. While the largest players are suffering, SMEs and regional contractors have reported increases in both workloads and enquiries. Figures show that clients could be splitting their risks away from just main contractors to regional contractors and SMEs. This trend would contribute to the longer term benefit of the industry, if maintained."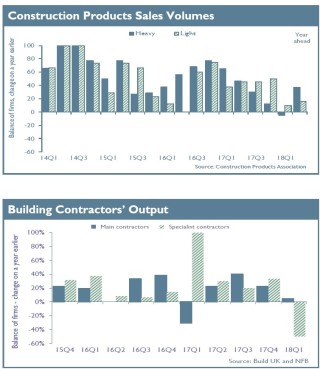 Key survey findings include:
•        On balance, 5% of main building contractors reported that construction output rose in the first quarter of 2018 compared with a year ago

•       Half of specialist contractors reported a fall in output during Q1
•       1% of civil engineers, on balance, reported a decrease in workloads during Q1
•       On balance, 8% of SME contractors reported increased workloads in Q1 compared to three months earlier
•       Main contractors reported that order books were lower in industrial, commercial and public non-housing
•       24% of civil engineering firms reported an increase in new orders in Q1, on balance
•       23% of SMEs and 50% of specialist contractors reported an increase in enquiries in Q1, on balance
•       Overall costs increased for 84% of civil engineering contractors, whilst 87% of main contractors, 90% of heavy side manufacturers and 84% of light side manufacturers reported raw materials costs rose in Q1
•       39% of main contractors reported a fall in profit margins in Q1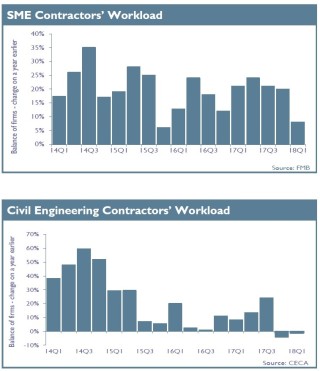 Got a story? Email news@theconstructionindex.co.uk