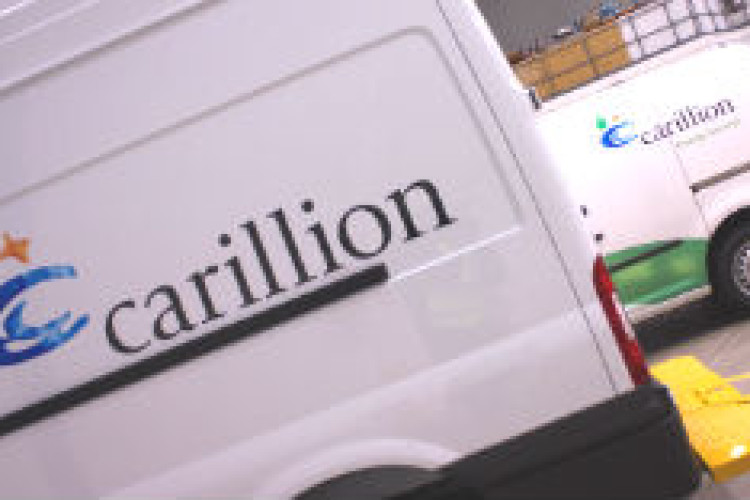 The fall in turnover was in line with corporate strategy to reduce exposure to low margin construction work. However, the company says it is now "well positioned to target revenue growth in the full year". The order book, including probable orders, has risen during the first half of the year from £18.0bn to £19.5bn, with £3.2bn of new and probable orders added over the six month period.
Revenue for the six months to 30 June 2014 was £1,871.0m, down from £1,964.6m in 2013. This follows a trend that saw Carillion's first half revenue come down from £2.5bn in 2011 to £2.2bn in 2012.
Pre-tax profit for 2014 H1 was £67.5m, up from £64.2m in 2013 H1 and £64.1m in 2012 H1.
Revenue in the construction services segment (excluding Middle East) was down 8% to £462.1m. Underlying operating profit was up 1% to £19.2m.

Support services saw revenue shrink 1% to £1,100.8m and underlying operating profit grow 25% to £55.3m.
Public Private Partnership (PPP) projects generated £95.5m in revenue, down 24%, with underlying operating profit down 44% to £20.5m.
Revenue from Middle East construction services was down 4% to £212.6m, with underlying operating profit up 33% to £13.2m.
Chairman Philip Green said: "Carillion continues to perform in line with the board's expectations, reflecting the benefits of the early actions we took in response to the economic downturn, notably the planned rescaling of our UK construction business, together with our continuing strong work-winning performance. Having realigned our businesses to the size of the markets in which we operate, the group is well positioned to benefit from its strong work-winning performance over the last 18 months and from its high-quality pipeline of contract opportunities across our target markets. Consequently, the board's expectations for 2014 remain unchanged and we expect to make further progress in the medium term."
Got a story? Email news@theconstructionindex.co.uk