The council's planning committee has resolved to grant planning permission for the expansion of the club's Main Stand and for outline proposals to expand the Anfield Road Stand.
The proposed expansion is just one element of a major regeneration plan announced by Liverpool City Council in October 2012, to transform the Anfield area. (See our original news report here.)
The redevelopment of the Main Stand could add 8,500 seats, taking its capacity to nearly 21,000 and overall Anfield stadium capacity to 54,000.
The outline proposals for the Anfield Road Stand provide for an increase in its capacity of around 4,800 seats.
Members of Liverpool City Council's Planning Committee unanimously resolved to grant planning permission, subject to conditions and legal agreement, at a meeting at the city's Town Hall yesterday morning (23rd September). They had earlier conducted a site visit of the stadium.

Construction work on the proposed Main Stand is expected to begin early next year and take 20 months to complete – in time for the 2016-17 season. Matches will continue to be played at Anfield during the construction work.
Carillion was selected for the contract in July, as previously reported. At that time, it was hoping to start on site before the end of the year.
Mayor of Liverpool Joe Anderson, said: "This is a very important milestone in our ambitions to transform the Anfield area, bringing new jobs, investment and housing. The overall regeneration will see £260m invested in Anfield. Liverpool Football Club's proposals for the stadium are a key part of this. The club is a major employer in the area and its stadium is a major draw for tourists and visitors."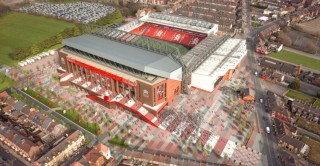 Got a story? Email news@theconstructionindex.co.uk