Construction of the £500,000 structure in Camarthen posed some interesting challenges for the contractor, as it had to find a way to pour concrete onto a sloped surface without gravity redistributing it before it set.
"The shape of a velodrome has no horizontal or flat areas; event the straits are slightly inclined, so laying concrete is quite challenging," said GD Harries senior quantity surveyor Richard Burton.
"We had to come up with method of getting it accurate and making sure the concrete stayed where it was supposed to. We achieved it by pouring the concrete into a series of bays, continually moving from the bottom to the top of each bay as we poured."
The velodrome, funded by Carmarthen Town Council, Carmarthenshire County Council, Sports Wales and Welsh Cycling, opened at the end of October. It is used by the public and by local cycle team Towy Riders.
The construction required 570m³ of concrete, which GD Harries supplied, and it is expected to last 50 years. It replaces the original velodrome, which was built in the early 20th century.
An added benefit of the new velodrome is that its concrete surface is expected to enable cyclists to travel at higher speeds than on velodromes made from other materials.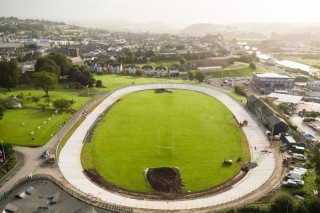 Got a story? Email news@theconstructionindex.co.uk