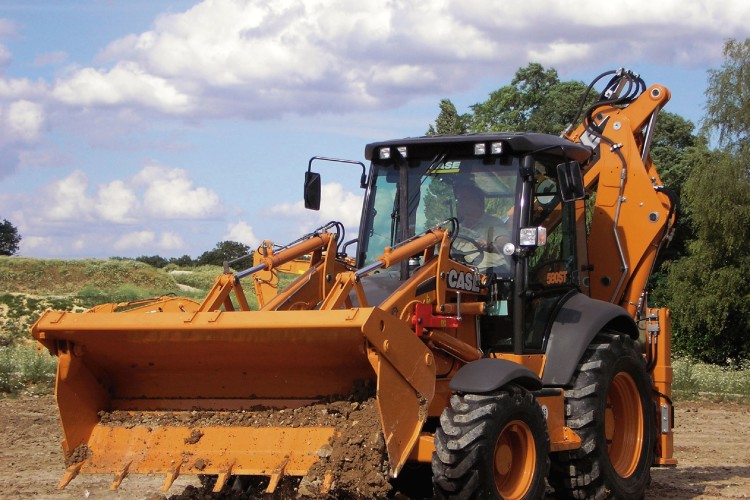 Customers can specify whether they want Powershift or Powershuttle transmission, pilot or mechanical backhoe controls, and two- or four-wheel steering.
All four models have a 1.2m3 front loader bucket as standard, 20% larger than the previous models, thus speeding loading cycles. Case will also make a standard mechanical quick coupler for the backhoe, with a hydraulic coupler available as an option.
Load sensing hydraulics ensure that power is available on demand, contributing to a 10% reduction in fuel consumption and lower engine noise levels.
Overlapping backhoe boom cylinders provide a transport height under 3.6m - which is 30cm less then on previous models - and a slim boom profile for improved visibility.
The outer dipper section of the Extendahoe  is powered by a hydraulic cylinder and the curved main boom profile ensures easy truck loading and improved digging ability, Case says. Boom and swing cylinders come with standard end stroke cushioning to prolong component life and combat operator fatigue.
Next year a hydraulic side shift for the backhoe will be introduced.
An optional handling kit comprises a safe lifting hook with hose burst valves on boom and dipper cylinders and an overload warning device. Stabiliser legs are also supplied with safety hose burst valves, while rubber pads on the legs can be used to prevent damage to the working area.
In 2005 Case hit the half a million mark in loader backhoe production and is already well on the way to making 750,000 loader backhoes.
Brief specifications:
Case 695ST
Operating weight kg: 8,840
Net rated engine output hp (kW): 110 (82)
Engine net torque (Nm): 516
Transmission: Powershift
Speed range km/h: 0-39km/h
Loader lift capacity (4-in-1) kg: 4,580
 Case 590ST
Operating weight kg: 8,120
Net rated engine output hp (kW): 110 (82)
Engine net torque (Nm): 516
Transmission: Powershift (Powershuttle option)
Speed range km/h: 0-39km/h
Loader lift capacity (4-in-1) kg: 4,610
 Case 580ST
Operating weight kg: 8,050
Net rated engine output hp (kW): 97 (72)
Engine net torque (Nm): 453
Transmission: Powershuttle
Speed range km/h: 0-40km/h
Loader lift capacity (4-in-1) kg: 4,610
Case 580T
Operating weight kg: 8,050
Net rated engine output hp (kW): 97 (72)
Engine net torque (Nm): 400
Transmission: Powershuttle
Speed range km/h: 0-40km/h
Loader lift capacity (4-in-1) kg: 4,610 
Got a story? Email news@theconstructionindex.co.uk