It doesn't matter how experienced you are, Caterpillar says, the new Cat GRADE with ASSIST combination will make you significantly faster by automating grade adjustments that are typically done using manual controls.
The operator ASSIST feature with semi-autonomous grade control is now available on the Cat 323E L. A retrofit kit is also available to upgrade existing 323E L machines.
Integration with the familiar Cat GRADE system, display, and joysticks enables the operator to create simple 2D designs in the cab, press the auto button, and get to work. Operators can take advantage of the guidance features built into the base system, like grade indication and audible alerts, while using ASSIST technology to perform the precision work. Integration with the machine and hydraulics delivers full power to the cutting edge with precise control throughout the cut, enabling the operator to create fast, accurate grades with less effort, Caterpillar says. Operators who work with complex grade plans can add Cat AccuGrade for additional 3D capability.

ASSIST technology aids the operator when the cutting edge gets within 10 cm of target by locking onto grade and automatically adjusting boom up/down and bucket in/out movements. The operator controls stick speed using a single lever. The system also automates bucket movements to maintain a constant bucket angle, which is operator adjustable to match cutting angle to digging conditions and can be automatically recalled for the next pass. To eliminate the risk of overcutting, a grade protection feature prevents the cutting edge from penetrating below grade.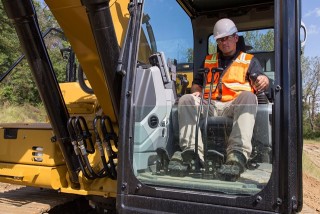 Got a story? Email news@theconstructionindex.co.uk