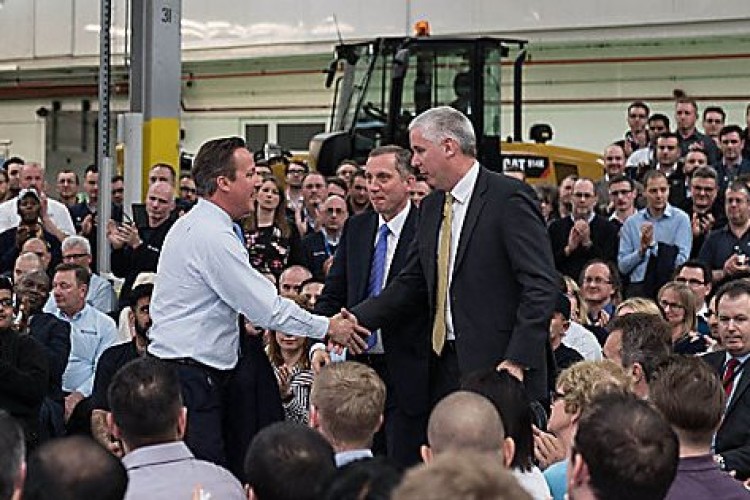 While JCB's Lord Bamford has indicated that he is in favour of, or at least neutral about, the UK leaving the EU, Caterpillar has come out in strong support of staying in.
The company issued a statement to coincide with a visit by UK prime minister David Cameron to Cat's Peterborough factory yesterday (Thursday 28th April) as part of his campaign for the Remain campaign.
Last year Lord Bamford told the BBC that the UK could manage perfectly well outside of the EU. While he has not actually said publicly that he supports leaving, he is often listed as an assumed supporter of Brexit. JCB chief executive Graeme MacDonald has been quoted less equivocally as saying: "What is needed is a lot less red tape and bureaucracy. Some of it is costly for us and quite frankly ridiculous. Whether that means renegotiating or exiting, I don't think it can carry on as it is."
Cat, however, has made it clear that it is much more pro EU – suggesting even that it might have to rethink its commitment to manufacturing in Britain should the UK leave the EU.


It said: "Caterpillar supports continued UK membership of a reformed European Union. We fully respect that the British people will decide the UK's future relationship with the EU, but we believe the UK's continued membership of a reformed competitive EU is the best option for the economic growth and well-being of both the UK and wider EU economy. Ultimately, it is fundamental to our business interests that we retain full access to the EU's single market from here – as the vast majority of Cat products manufactured in the UK are exported to the single market and third countries – and that we are able to serve our UK customer base from the EU with no constraints."
Caterpillar UK country manager Mark Dorsett said of David Cameron's visit: "It was an honour to have the Prime Minister actively engage with us and provide the opportunity for 2,000 employees to speak with him on a matter of such significant importance to the UK".
Mr Cameron responded: "Caterpillar is a great company. As a major inward investor, we value Caterpillar's investment in innovation, technology and manufacturing of its products, which are sold around the world."
The referendum to decide whether the UK should leave or remain in the European Union will be held on Thursday 23rd June 2016.
Got a story? Email news@theconstructionindex.co.uk