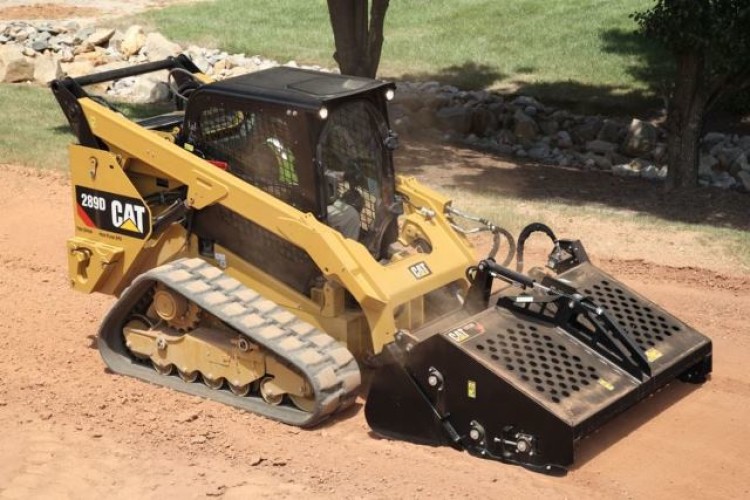 All the machines have a new cab with a new tubular lift-arm design for improved sight lines.Engine performance has also been boosted for greater productivity.
The six new D Series models are replacements for their B3, C and C2 Series predecessors.
The eight D Series rubber-track loaders range in rated operating capacity (50% of tipping load) from 1,270kg to 2,109kg. Mid-size frame models, as narrow as 1676mm (66 inches), are the 257D multi terrain loader (MTL) and 259D compact tracked loader (CTL).  Larger frame models are the 277D and 287D MTLs and the 279D and 289D CTLs. These six D Series models have an electronically-controlled 3.3-litre engine that meets Stage IIIB emissions standards. The Cat C3.3B engine provides 74hp (55kW) with 8% more torque and 6% improved fuel economy compared to the previous models, the manufacturer says
The largest D series models, the 299D and 299D XHP CTLs, were launched last year and continue to be powered by an electronically-controlled Stage IIIB compliant 3.8-litre engine. The Cat C3.8 produces 98 gross horsepower (73kW) for the 299D and 110 net horsepower (82kW) for the 299D XHP, which powers an auxiliary hydraulic system producing 150 litres/min of flow at 28,000 kPa to handle powered work tools. The 299D and 299D XHP also have the new cabs and lift-arm design.
New features in the cab include the option of an advanced display with the first integrated rear-view camera ever offered on compact track loaders, Cat says.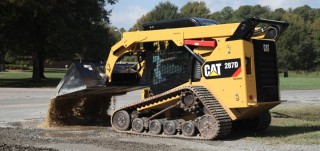 D Series multi terrain loader and compact tracked loader specifications
Model

Type

Gross power
hp (kW)

Lift Path1
R/V

ROC2
lb (kg)

Aux. Flow
gpm (L/min)

Aux. Pressure (HF)3
psi (kPa)

257D

MTL

74.3 (55.4)

V

2,800 (1 270)

30 (112)

3,335 (23 000)

259D

CTL

74.3 (55.4)

V

2,900 (1 315)

30 (112)

3,335 (23 000)

277D

MTL

74.3 (55.4)

R

3,290 (1 492)

32 (121)

4,061 (28 000)

279D

CTL

74.3 (55.4)

R

2,935 (1 331)

32 (121)

4,061 (28 000)

287D

MTL

74.3 (55.4)

V

4,000 (1 814)

32 (121)

4,061 (28 000)

289D

CTL

74.3 (55.4)

V

3,800 (1 729)

32 (121)

4,061 (28 000)

299D

CTL

98 (73)

V

4,250 (1 928)

32 (121)

4,061 (28 000)

299D XHP

CTL

110 (82)

V

4,650 (2 109)

40 (150)

4,061 (28 000)

1  R (radial lift); V (vertical lift)

2  ROC Rated Operating Capacity at 50% tipping load

3  Available high-flow system
Got a story? Email news@theconstructionindex.co.uk