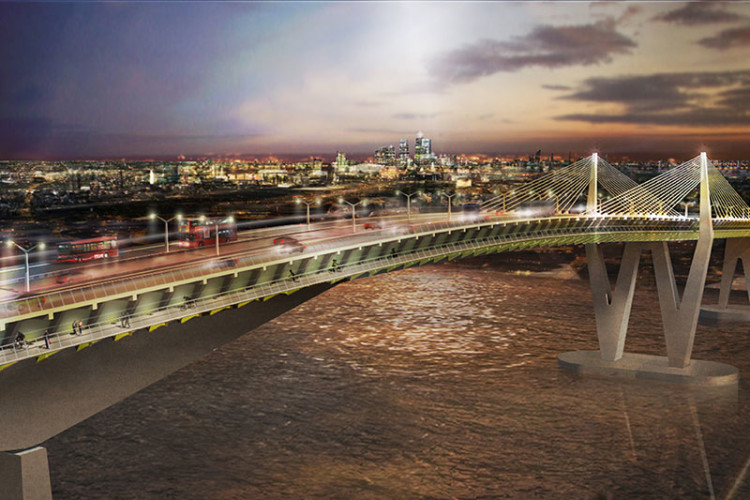 Proposals for an east London river crossing (Elric) have discussed for years. LCCI is now promoting a concept for a £600m Thames Gateway bridge that it is calling Bridge East London, linking Beckton and Thamesmead at Gallions Reach.
The thinking is that it will help generate investment in poorer parts of east and southeast London. The campaign publicity for the project states: "It is no coincidence that the 15 miles of riverbank between the Blackwall Tunnel – the most easterly crossing in London – and the Dartford Crossing – the first crossing outside of London to the east – are home to some of the London's underdeveloped and economically deprived communities."
It adds that London is expected to grow by 1.5 million people over the next 20 years, and the majority of that growth will take place in the east of the capital. If that growth is going to be sustainable, east London needs the transport infrastructure to match, LCCI says.
The plans has been produced by consulting engineer has been created by Arup with architecture firm HOK.
The proposed bridge would allow clear passage for ships and takes into account aircraft taking off or landing at City Airport.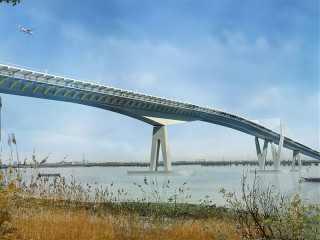 LCCI chief executive Colin Stanbridge said: "Nearly half of London's population lives east of Tower Bridge yet they are served by only two fixed road river crossings. It is an area with huge amounts of potential and while the Olympics acted as a crucible for creativity and dynamism in the area, its future growth is being held back by this gap in transport infrastructure.
"We know that the Mayor shares our enthusiasm for helping the east of the capital to maximise its exciting reinvention. The area is currently attracting the worlds brightest and best whether to the financial heartland of Canary Wharf, the Royal Docks development or the high-tech firms flocking to Silicon Roundabout in Shoreditch.
"New road river crossings linking east and south east London over the Thames will bring new jobs and homes to an area of the capital that has been overlooked for too long."
Arup director Stephanos Samaras said: "London's infrastructure is already under pressure and as the city's population continues to grow it is more important than ever that we provide better accessibility and connectivity to integrate communities. Infrastructure projects such as Crossrail are going a long way to help increase capacity but this proposed bridge could provide a much needed link for east London."
HOK director Richard Gammon added: "If the full potential of east London is to be harnessed and maximised to the benefit of our growing city, then we need to provide catalysts to enable that potential to flourish.  Improving connectivity and accessibility is a key element of this regenerative process, and we strongly believe that a new bridge in this location will act as a powerful stimulant to growth, the strengthening of local communities and businesses, and the enhancement of the local environment" 
Got a story? Email news@theconstructionindex.co.uk