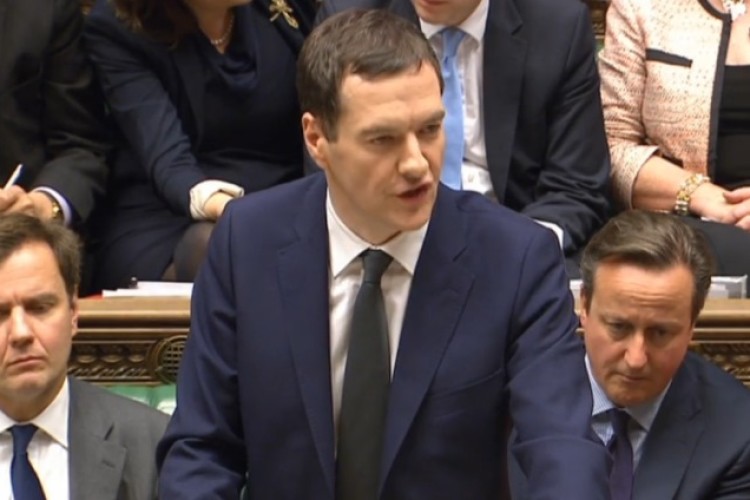 The housing budget is being doubled to more than £2bn a year, he said, to support delivery of 400,000 'affordable' new homes by the end of the decade.
New measures include an extension of Help to Buy with a special scheme for the capital.
London Help to Buy will give London buyers with a 5% deposit an interest-free loan worth up to 40% of the value of a newly-built home.
In a bid to curb multiple home-ownership, stamp duty will be increased by three percentage points on the purchase of additional properties such as buy-to-lets and second homes. Money raised from tax on people buying their second home will be used to help those struggling to buy their first home, Mr Osborne said.
On transport, the chancellor said that although the Department for Transport's operational budget is being cut by 37% over the next five years, "transport capital spending will increase by 50% to a total of £61bn" through to 2021, he said.
There is also a £250m allocation for investement in Kent to alleviate the impact of Operation Stack, which shuts the M20 whenever there is industrial action in French ports or other delays to crossings.
Mr Osborne said that over the next four years, the UK deficit will have been eliminated and the government will be running a £10bn surplus by 2019/20.
Departmental Expenditure Limits (DEL)
Department for Transport

 

£ billion

Baseline

Plans

2015-16

2016-17

2017-18

2018-19

2019-20

2020-21

Resource DEL

2.6

2.0

2.1

2.2

1.8

*

Capital DEL

6.1

6.3

7.6

8.9

11.4

12.4

Total DEL

8.7

8.3

9.7

11.1

13.2

*
Department for Environment, Food & Rural Affairs

 

£ billion

Baseline

Plans

2015-16

2016-17

2017-18

2018-19

2019-20

2020-21

Resource DEL

1.5

1.7

1.6

1.5

1.4

*

Capital DEL

0.5

0.6

0.6

0.6

0.5

0.5

Total DEL

2.0

2.3

2.2

2.1

1.9

*
Local Government Funding (1)
| £ billion | 2015-16 | 2016-17 | 2017-18 | 2018-19 | 2019-20 | Real % | Average annual real growth | Cash change 15-16 to 19-20 |
| --- | --- | --- | --- | --- | --- | --- | --- | --- |
| Local Government Spending | 40.3 | 38.6 | 38.9 | 39.7 | 40.5 | -6.7 | -1.7 | +0.5% |
| Local Government Central Grant (LGDEL) (2) | 11.5 | 9.6 | 7.4 | 6.1 | 5.4 | -56.3 | -18.7 |   |
| Local Authority Self Financed Expenditure (3) | 28.8 | 29 | 31.5 | 33.6 | 35.1 | +13.1 | +3.1 |   |
(1) The Local Government Settlement will be set out next month (Dec 2015)
Got a story? Email news@theconstructionindex.co.uk