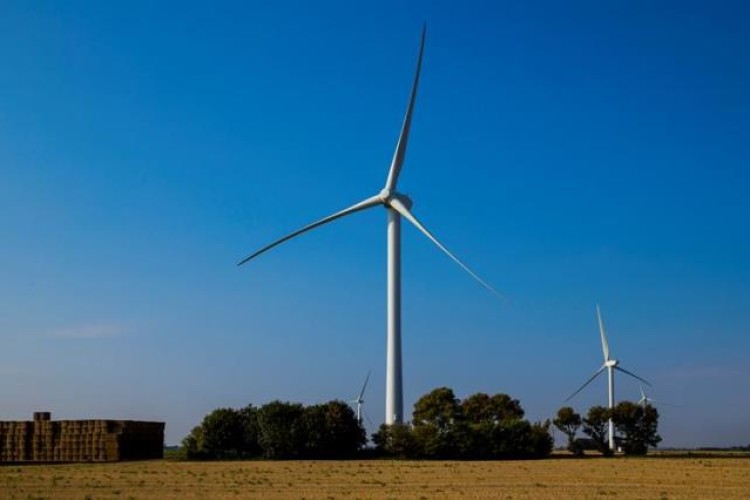 It is the Chinese company's first investment in renewable energy in the UK.
EDF Energy Renewables will retain a 20% stake in the assets and said it would use the receipts to fund further renewable projects in the UK.
The three windfarms now in Chinese hands are:
Green Rigg - an 18 turbine, 36MW windfarm, 22 miles northwest of Newcastle upon Tyne
Rusholme - a 12 turbine, 24.6MW windfarm, 15 miles southeast of York
Glass Moor II - a six turbine, 12.3Mw windfarm six miles southeast of Peterborough.
EDF also disclosed that it is close to agreeing a deal with the Chinese power giant to sell it a share of its Hinkley Point C nuclear power station.
EDF Energy CEO Vincent de Rivaz said: "This deal is part of our continuing strategy to release capital to allow the development of other renewables projects in the UK. CGN made the best offer in a highly competitive auction and the deal shows their commitment to the UK and the strong relationship EDF Group has with them. EDF and CGN have worked together for 30 years and are engaged in ongoing discussions for the UK's first nuclear power station for a generation at Hinkley Point in Somerset.
CGN Europe Energy CEO Wei LU said: "CGN is very happy to be able to implement the first investment of renewable energy in the UK. This is a good beginning of concrete co-operation between CGN and EDF in Europe. And we are proud to supply clean energy to British people."
Got a story? Email news@theconstructionindex.co.uk