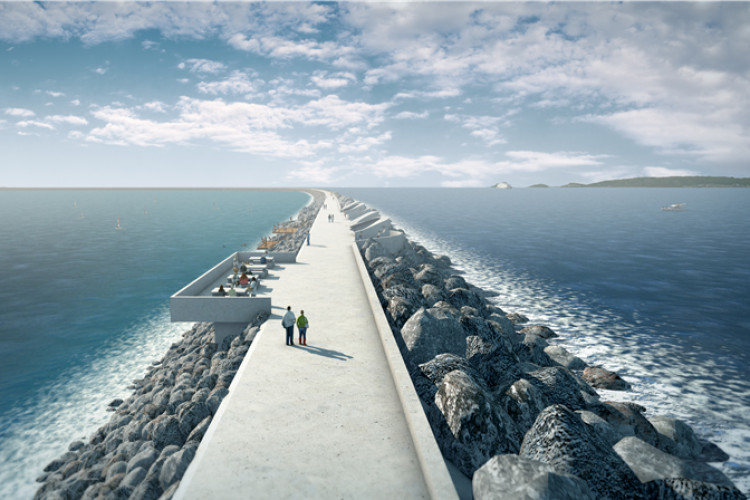 China Harbour Engineering Company (CHEC) was named preferred bidder last year to build six miles of lagoon wall in Swansea Bay.
However, after significant efforts, CHEC's design was found to have 'limited workability'. The marine works package will now be retendered. Belgian dredging contractor Jan de Nul is expected to be among those to renew their interest.
It has also emerged that former Balfour Beatty chief executive Andrew McNaughton has also left the project. He was brought in to succeed Steve Hollingshead as director of engineering and construction in April 2015. Mike Unsworth, who joined as delivery director in August 2015 to support Andrew McNaughton, is now director of construction. He previously worked in the offshore windfarm business.
Mr Unsworth told the South Wales Evening Post that CHEC had failed to demonstrate that it offered best value for money.
A spokesperson for Tidal Lagoon Swansea Bay Plc (TLSB) told The Construction Index: "We have now completed a review of the Advanced Works Phase (AWP) for the Swansea Bay Tidal Lagoon. All Tier One work packages made good progress under the AWP, with Preferred Bidders working in close collaboration with TLSB's construction team.  This has, in accordance with industry best practice, included a significant body of work to develop and test project design.

"We have now taken the decision to retender the Marine Works Package in line with the requirement to deliver optimal value-for-money to investors and to consumers. The Marine Works Package comprises the construction of the lagoon's breakwaters and the temporary cofferdam in which the powerhouse structure will be built.
"It's the one change following an internal review of all work packages and will not impact on project funding or the delivery timetable.
"We thank China Harbour Engineering Company Ltd for its contribution in helping to prepare a world-first energy project for delivery."
The £1bn project has planning permission but not yet all necessary finance in place and the government has now commissioned an 'independent' review (by a former energy minister) to look into the whole question of whether tidal energy warrants government backing.
Tidal Lagoon Power intends the Swansea scheme to be a pilot for larger tidal energy lagoons that it is planning at Cardiff, Newport, West Cumbria, Colwyn Bay and Bridgwater Bay. Where the Swansea pilot would have a 320 MW capacity, the bigger ones would be between 1,800MW and 2,800MW, giving an annual output of 4 TWh to 6 TWh.
Got a story? Email news@theconstructionindex.co.uk