Among the many thousands of traders that have made Alibaba the world's second biggest retailer are manufacturers of modular buildings offering new homes in kit form for as little as £18 per square metre.
Alibaba enables anyone to source a vast array of goods and services (construction-related and otherwise) from some of the lowest cost, highest volume producers in the world - the Chinese. While many of the buildings on offer through Alibaba are merely imaginatively modified shipping containers, others are engineered sandwich-panel building kits that apparently mirror modern methods of construction familiar to UK contractors.
Beijing-based Beixin Homes, for example, is using Alibaba to offer two-bedroom two-storey steel-framed homes for £40,000 each.
And it is not just low-rise homes. Hangzhou Zhonglianheng Metal Engineering Co Ltd, based in Zhejiang, is advertising prefabricated high-rise steel buildings, offering to supply anything from 400 square metres as a minimum order up to 5,000 square metres a week for between US $40-60 (£25-37).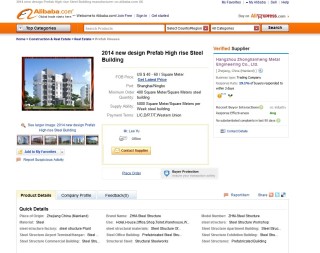 Last week housing minister Brandon Lewis called on UK house-builders to make much greater use of offsite construction to speed up the supply of affordable homes, although it is doubtful that he was advocating importing Chinese kits over British made ones.
Also last week, Alibaba floated on the New York Stock Exchange to become the 18th biggest company in the world and the second biggest retailer, behind only Walmart. It was one of the the biggest ever company listings, raising US$21.8bn and valuing the firm at $230bn.
Got a story? Email news@theconstructionindex.co.uk