While civils contractors are enjoying rising workloads in general, the highways sector is a marked exception.
Some 43% of civil engineering contractors across England, Scotland and Wales saw their workloads increase year-on-year in the first quarter of 2016, while 23% said business was down compared to the same period 2015.
This 20 point difference between positive and negative responses in the latest quarterly workload trends survey from the Civil Engineering Contractors Association (CECA) is a significant improvement on the five point difference reported in the previous quarter's survey (Q4 2015).
It is also the 11th consecutive quarter of the balance showing workloads increasing in these CECA surveys.
However, there is concern among contractors that national highways spending is in decline – or maybe going to a smaller pool of contractors. The difference between CECA members reporting an increase in motorways/trunk roads work in the Q1 2016 and those reporting a decrease compared to this time last year was minus 29 percentage points. For local roads the figure was -16.


CECA head of external affairs Marie-Claude Hemming said: "Today's results show that although the infrastructure sector as a whole is performing well, the roads sector is yet to reflect the government's planned programme of investment.
"The roads network is integral to the UK's economy. We must take steps to ensure investment in the sector is implemented in a timely and efficient manner, to prevent it acting as a hindrance to wider economic growth.
"CECA calls on government to take steps to ensure planned investment in the roads sector is unlocked, so that our members can deliver a roads network capable of sustaining projected levels of demand."
CECA 2016 first quarter workload trends survey snapshot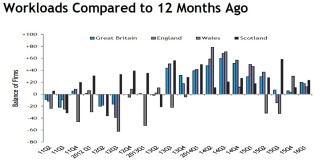 Got a story? Email news@theconstructionindex.co.uk