A major concrete pour began on Monday 3rd August 2015 for the south pylon foundation, pumping 1,400 cubic metres of concrete into the south cofferdam, non-stop for around 24 hours.
The three pylon foundations will sit below the riverbed and will each measure 4.5 metres high and up to 22 metres in diameter.
Construction of the foundations involves making a concrete base layer – or floor – inside the cofferdams. Following this, a cage made of steel reinforcing bars is assembled and encased in steel matting. A working platform is also installed to provide access for site workers.
Upright steel reinforcement bars are then fixed into the centre of the cage to form the beginnings of the pylon shaft – this is the tall structure that will rise out of the riverbed to support the bridge deck. Once the assembly work is finished the concrete pour can take place.
Merseylink site agent George Houston said:  "This is one of the biggest concrete pours that I've ever been involved with. We're using a massive amount of concrete – over 600 truckloads just for the three pylon foundations. It's an extremely technical part of the project and our teams will be working round the clock to get the job done."
In total, approximately 127,000 cubic metres of concrete will be used across the project, which is the equivalent of around 20,000 truck mixer loads of concrete.
As each pylon foundation is completed, work will begin on the pylon shafts. Formwork will be lifted into place by a crane and attached to the pylon foundation for the concrete to be poured into. The formwork will move up the pylon shaft allowing the pylon to rise. It is estimated that each section of the shaft will take around five days to build.
The three pylons, which will rise out of the riverbed to support the bridge deck, should begin to be visible in the estuary from September 2015.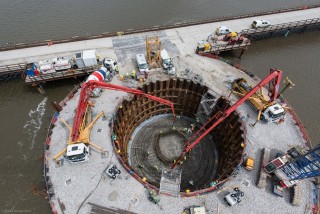 Hugh O'Connor, general manager of Merseylink, said: "Starting work on the bridge pylons marks another significant step for this important infrastructure project. Work is progressing at pace now on all sections of the site and a huge amount of activity will be taking place over the next few months."
Halton Borough Council appointed the Merseylink Consortium as the project company on a 30-year contract to design, build, finance and operate the project. Its equity partners are Macquarie Capital Group, Bilfinger Berger Global Investments, and FCC Construcción. The construction team is a joint venture of Kier Infrastructure & Overseas Limited, Samsung C&T and FCC Construcción. Sanef will deliver and operate the tolling system for the consortium.
Got a story? Email news@theconstructionindex.co.uk