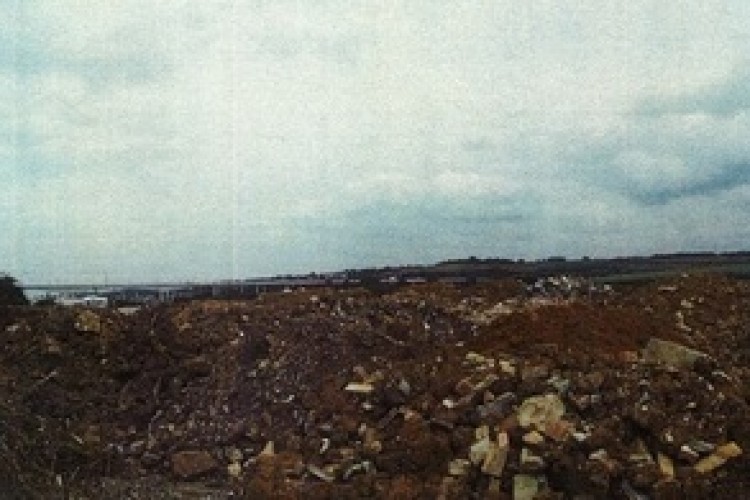 Rochester-based Fastrac Contractors & Utilities Ltd was found guilty in its absence and fined £40,000 with £1,650 costs, at Sevenoaks Magistrates Court.
Bennett Grab Services, based near Gravesend, pleaded guilty and was fined £2000, with costs of £404.
Charges were brought against both companies when an Environment Agency investigation discovered building waste and rubble being tipped at River House, Station Road, Cuxton, which was not covered by an environmental permit.
The court heard that on a site visit in 2013 Fastrac company director Paul Davies admitted to having tipped 80 loads of waste at the site. The Environment Agency issued a letter in July 2013 instructing Fastrac to stop dumping at this location until getting the appropriate permission.
In November 2013, after no further information had been supplied by Fastrac, the Environment Agency served statutory notices on both Fastrac and the landowner to provide waste transfer information about wastes deposited at this site. These revealed that a further 47 lorry loads of waste had been received at the site since the warning letter.

In interviews, Mr Davies said that the landowner was a friend who had asked him to fill in some land. He said that his organisation had not tipped waste at the site after the date of the warning letter but that waste material taken from third party construction sites was being stored there. He later admitted that he had tipped nine loads at the site and conceded that he had committed an offence.
Sevenoaks magistrates acknowledged that the continued tipping had been a deliberate act and that there had been a risk of harm to the environment.
The Environment Agency investigation also discovered Bennett Grab Services had deposited soil at the same location. In sentencing Bennett Grab Services, the magistrates took into consideration their early guilty plea but said that a company in the waste business should be aware of the checks that needed to be made to ensure a site was properly authorised before depositing waste.
Environment Agency manager Alan Cansdale said: "The court heard how waste crime can undermine legitimate businesses and damage the environment. The illegally tipped waste in Cuxton compromised the flood plain around the River Medway.  Without an environmental permit application, no assessment had been made regarding the impact of deposits in this area of flood plain and the potential to exacerbate flooding elsewhere. In cases like this, where individuals or businesses operate illegally, the Environment Agency has no hesitation in prosecuting."
Got a story? Email news@theconstructionindex.co.uk