Now the Health & Safety Executive (HSE) has produce new specialist guidance in a bit to improve management of occupational health risks in the industry.
A recent inspection initiative across construction sites revealed widespread misunderstanding of what 'occupational health' means in the construction sector. HSE inspectors issued more than 200 health-related enforcement notices during the campaign.
The new guide – Occupational health risk management in construction – has been written by the Construction Industry Advisory Committee (ConIAC) health risks working group and formatted with the assistance of the Institution of Occupational Safety & Health (IOSH).
It gives practical advice on what health risk means for the construction industry, and the role of occupational health service provision in preventing or controlling those risks.
HSE principal specialist inspector Ian Strudley, who chairs the working group, said: ""The misunderstanding of occupational health within the construction sector means that whilst the industry focus on managing the more familiar safety issues, serious health risks get ignored. We cannot let this continue.
"When figures show that construction workers are at least 100 times more likely to die from a disease caused or made worse by their work as they are from a fatal accident, the industry must take action."

IOSH executive director Shelley Frost said: "There have been huge advances in improving safety in the construction sector over the last 15 years but the industry has yet to generate such advances in improving the picture in occupational health. Every week, 100 people die from construction-related ill health in the UK. Less than half of construction workers also stay employed in the industry until they are 60.
"This new guide raises awareness of the occupational health issues in construction, demystifies how to best manage them and provides information as to where firms can get help and assistance.
"Ultimately, if the advice is followed, it could help to lower incidence rates of occupational ill-health and transform the perception of working in construction to that of an attractive and respectful industry with great career choices."
The guidance is free and available on the HSE website.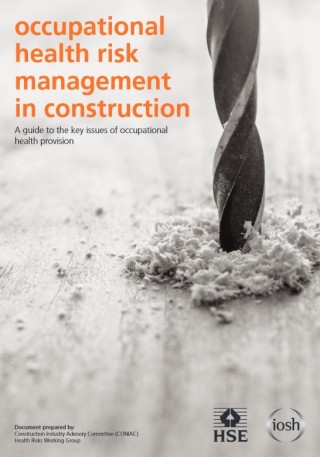 Got a story? Email news@theconstructionindex.co.uk