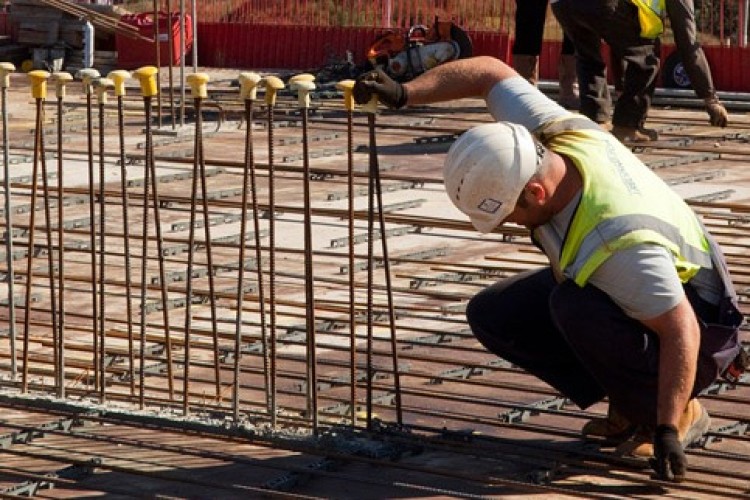 The monthly survey of construction purchasing managers suggests a near-stagnant industry in January 2018 with new orders declining and continuing market uncertainty.
However, confidence in future growth prospects improved somewhat, with many firms anticipating an increase in new project wins later in the year.
The seasonally adjusted IHS Markit/CIPS UK Construction Purchasing Managers' Index (PMI) posted 50.2 in January, down from 52.2 in December. The PMI was only just above the neutral 50.0 no-change mark, thereby signalling a fractional rate of growth that was the weakest for four months.
The latest data signalled that the sector's main driver of growth in recent months, house-building, slipped into decline, ending a 16-month expansion. Commercial building returned to growth, reversing a six-month period of decline, though the pace of expansion was only marginal.  Civil engineering activity also rose, according to this survey, representing an improvement on the declines seen late last year, although here too the increase was only very modest.
The rate of job creation eased to an 18-month low, in line with the reduced growth of building activity.
New orders received by UK construction companies decreased slightly for the first time in four months during the latest survey period. Many respondents linked falling new business to worries fuelled by general political and economic uncertainty.
Despite softening marginally since December, cost pressures remained intense in January. Inflation in input costs was driven by a variety of materials such as bricks, copper and timber.

Subcontractor usage increased during January, ending a 10-month sequence of decline. Furthermore, the latest expansion was the strongest seen since November 2016. In response, subcontractor availability fell sharply.
Despite the subdued total industry activity growth and falling new orders, optimism among UK construction companies actually improved in January. Many firms anticipate a pick-up in new business wins later in the year.
Sam Teague, economist at IHS Markit and author of the IHS Markit/CIPS Construction PMI, said: "January's PMI data indicated a difficult start to 2018 for the UK's construction sector, underlined by business activity growth slumping to a four-month low and new orders sliding back into decline.
"A contraction in house-building added to lacklustre commercial building and civil engineering markets, and reduced inflows of new work suggest overall activity could slip into decline in February. Furthermore, cost pressures remained intense, fuelled by shortages of input materials and high costs for imported products.
"Survey respondents reported increased hesitance among clients to invest in new projects amid heightened concerns over the UK economic outlook. Encouragingly, however, firms generally expect things to improve later in the year. Constructors' optimism towards future growth prospects reached a seven-month high. Many forecasted that the soft patch in construction demand would be short-lived and new project wins would pick up throughout the year, though this will inevitably depend on how Brexit negotiations play out. Despite the upturn, optimism remains worryingly low by historical standards."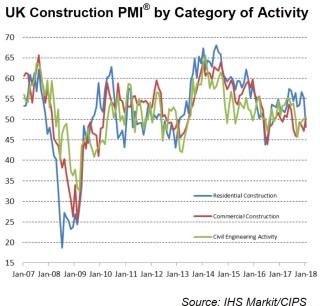 Got a story? Email news@theconstructionindex.co.uk