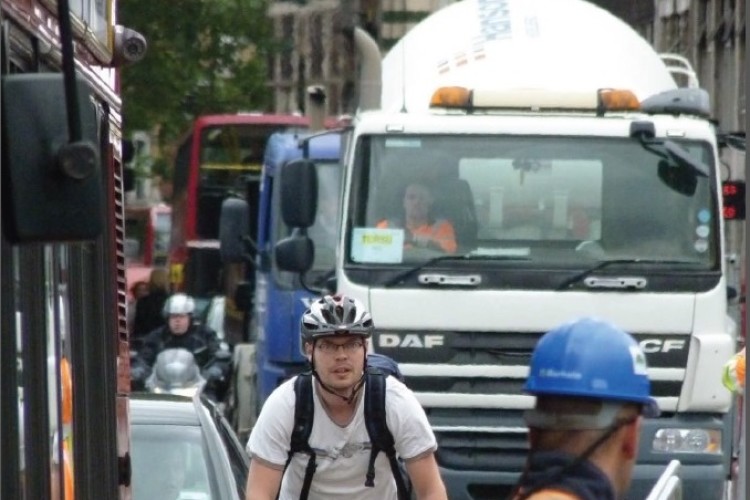 The new Standard for Construction Logistics has been developed by the logistics and construction industries, with the support of Transport for London.
The aim is that the document will form part of construction contracts in the capital. It represents the construction industry taking responsibility for safety beyond the boundary of the construction site.
London's Transport Commissioner Sir Peter Hendy CBE said: "The hard work and determination of the construction industry to raise standards across the board is both admirable and to be applauded. London is leading the UK in targeting unsafe freight vehicles and, working with the industry, we will continue to drive out poor and dangerous behaviour, and improve standards, to make our roads safer for all road users. Today's announcement of an industry led road safety standard is something I fully endorse and call on the rest of the construction industry, whether they are based in London or elsewhere in the UK, to do the same."
Among the requirements, it sets out requirements for all vehicles over 3.5 tonnes gross vehicle weight (GVW). They must have prominent signage warning other road users to stay clear. Front, side and rear blind-spots must be eliminated or minimised as far as is practical and possible through a combination of fully operational direct and indirect vision aids and driver audible alerts. They must sound an alarm before turning left.
Side-guards should be be fitted to all rigid mixer, tipper and waste type vehicles over 3.5 tonnes GVW that are currently exempt from fitment.
All drivers will have to go on approved training and continued professional development courses specifically covering the safety of vulnerable road users (i.e. cyclists).
To reduce risk of injury to pedestrians, vehicles are to be loaded and unloaded on-site as far as is practicable.
Mayor of London Boris Johnson said: "The role of lorries in cycle accidents is well known now – roughly half of all fatalities involve HGVs, though they are only 4% of the traffic. I'm very grateful to all those from the industry who pledged to help us tackle this issue and the new construction industry safety standard we are launching is a real step forward and will help save vulnerable users, cyclists and pedestrians, from harm."

In the new year the mayor will launch a consultation on a Safer Lorry Scheme to ensure HGV vehicles meet basic safety requirements. 
Transport for London also announced that it will be trialling a new construction lorry with improved driver visibility and safety equipment. The Laing O'Rourke vehicle, which will be used to transport commercial waste away from the Crossrail project, has a cab with larger front and side windows, reducing the blind spot. TfL will also be working with the industry to identify other models of vehicles with similar high-visibility cabs to help the construction industry adopt them into their fleet and press manufacturers to adopt these designs for vehicles of the future.
Laing O'Rourke, including its plant subsidiary Select, has also fitted its entire nationwide fleet of HGVs with cameras and vulnerable road user safety equipment.
The Freight Transport Association (FTA) was one of the organisations involved in the production of the new Standard for Construction Logistics. FTA head of urban logistics policy Christopher Snelling said: "This is a major initiative that should improve the construction logistics sector's safety record.  It is a good example of the right way to tackle safety issues.  A specific focus has been identified - tipper lorries used as part of construction logistics are involved in a relatively high proportion of cyclist fatalities.  The measures set out are those shown by industry testing and use to be beneficial to safety, not ones that are just designed to grab headlines.
"This new standard will raise the safety performance of the whole construction logistics sector to match that of the best performers today.  The development of this standard, and the commitment to it by many major companies, demonstrates how seriously the logistics industry takes cyclist safety and how we are working through intelligent, targeted projects to improve our record and to adjust our operations to the increasing number of cyclists on our roads.
"This standard is only one part of the way forward on improving cyclist safety.  We need to maintain high levels of enforcement against road freight operators who do not comply with the law, and we should look at the use of the remaining safety exemptions for vehicles and what training our drivers receive.  Public authorities need to improve the roads and cycling infrastructure.  There is also a need for cyclists to take up training, make themselves visible and to understand how HGVs manoeuvre so they do not put themselves at unnecessary risk.
"FTA commends the new standard to all its members in, or serving, the construction industry and will be bringing it to their attention."
Got a story? Email news@theconstructionindex.co.uk