There was also a 4.8% year-on-year decline in construction output for the three months from March 2013 to May 2013, the Office for National Statistics said.
Both sets of figures are seasonally adjusted.
The May decline was not as sharp as the 6.5% year-on-year drop seen in April 2013.
Month on month, May was flat with zero growth on April 2013. There was a small increase in all new work of 0.3%, which was negated by a decline in repair & maintenance output of 0.5%.
These estimates for the construction industry are the second of the main components for the output approach to measuring GDP to be published for May 2013, the second month of quarter two 2013. Estimates for production were published on 9 July while the third main component of GDP, services, will be published on 25 July alongside the preliminary estimate of GDP for Q2 2013.

The most recent estimate of gross domestic product (GDP) confirmed the UK economy grew by 0.3% in the first quarter of 2013 following a contraction of 0.2% in Q4 2012. Construction output has contrasted these recent movements, falling by 2.4% in Q1 2013 after a short-lived return to growth (0.8%) in the previous quarter.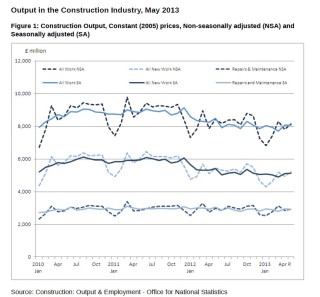 Looking at the longer term trend, GDP has fallen by 3.9% in the five years since the first quarter of 2008, whereas construction output has fallen by 18.9% over the same time period. Construction estimates are considered highly responsive to the economic cycle, the ONS said, and have provided some of the largest downward contributions to GDP. In terms of volume, construction output fell to £23,669m in Q1 2013. This is the lowest level since Q1 1999 and £309m below the previous trough in Q3 2009.
Anecdotal evidence suggests that bad weather conditions in certain periods and subdued underlying demand contributed to the weak performance of the construction sector. In addition to this subdued demand, year on year comparisons may have been affected by May 2012 having only one bank holiday as opposed to the usual two.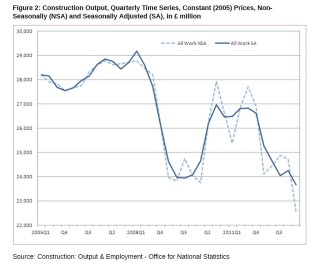 Got a story? Email news@theconstructionindex.co.uk