A 2.4% rise in new private housing in October was not enough to offset falls in other industry sectors. Infrastructure output was down 3.7% compared to September, public new housing was down 8.1% and total repair and maintenance was down 0.8%.
Despite the slight month-on-month decline, construction output in the three months up to October 2018 was 1.2% higher than the previous three-month period.
New orders grew by 3.4% quarter-on quarter in July to September 2018, with a strong increase in public other new work of 31.9% helping offset a 5.3% decline in housing new orders; despite this increase, levels remain below those typically seen over the last five years of new orders data.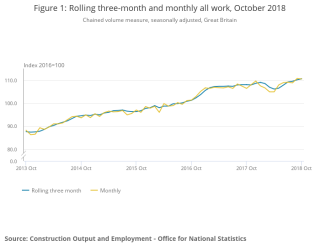 "The UK construction sector is more or less flat-lining," said Sarah McMonagle, director of external affairs at the Federation of Master Builders. "Rising costs for large and small construction firms are contributing to the slight drop in construction output. Recent government statistics show that in the past year, there were nearly 3,000 insolvencies in the construction industry. While wages are continuing to rise because of the ever-worsening skills crisis in our sector, firms are also feeling the pinch because of the rising cost of materials. The depreciation of sterling following the EU referendum has meant key materials have become more expensive. We are expecting material prices to continue to squeeze the margins of construction firms with recent research from the Federation of Master Builders showing that almost 90% of builders believe that prices will continue to rise in the next six months."
She added: "The future is still looking uncertain for the UK construction sector because the government has set out plans for a post-Brexit immigration system that would severely worsen the skills shortage. The government has said it will limit the number of low skilled workers entering the UK from the EU and further afield. This would include thousands of tradespeople, including bricklayers and carpenters, and these roles are ones that the construction sector relies on. More than 9% of the UK's construction workers are from the EU and this rises to one third in London. It is therefore imperative that the government listens to the needs of the sector and delivers a post Brexit immigration system that allows us to draw on essential migrant workers. Without this, we won't be able to keep building at the current rate and construction output will continue to fall."

Blane Perrotton, managing director of surveyors Naismiths, said: "Britain's housebuilders continue to roar but risk becoming paper tigers. Residential building has cemented its position as the construction industry's most active sector. But its ability to defy Brexit headwinds is waning. New orders for resi developments shrank by a quarter between the first and third quarters of 2018.
"Britain's housing shortage means underlying demand for new homes is strong, but even construction's most totemic sector is subject to economic gravity. That downward pull dragged construction output as a whole into negative territory in October. While this is disappointing after builders' decent run of activity over the summer, it's symptomatic of an industry which has been starved of the oxygen of confidence.
"While labour shortages and rising material costs are all taking their toll on contractors' margins, it's the lack of orders and cut-throat competition for tenders that are forcing builders to bid low, and sometimes painfully low, for work.
"These are anxious times for an industry which relies more than any other on business confidence and solid investor sentiment. Both these vital ingredients have been choked off by months of Brexit deadlock, and barring some miracle in Westminster this week, the tortuous impasse is likely to continue."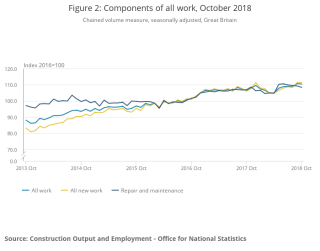 Got a story? Email news@theconstructionindex.co.uk