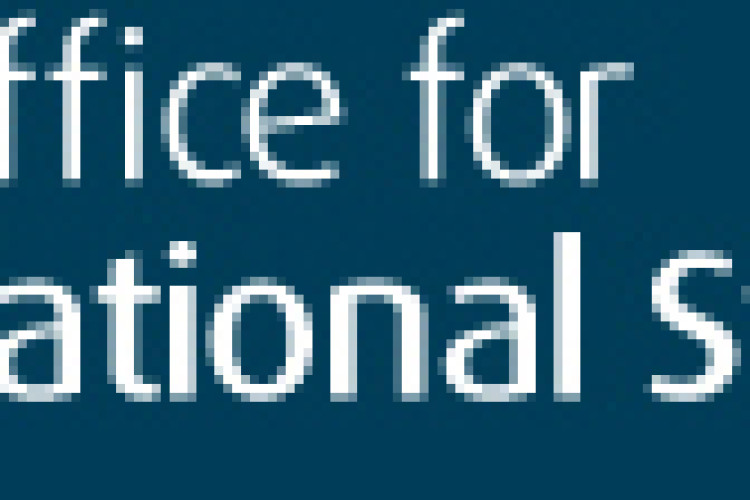 A fall in output in private commercial work is the key drag on industry performance, but industrial, public non-housing and repair & maintenance are also all in decline.
The stats for the three month period November 2017 to January 2018 show less of a decline in output, however, of just 1%. This is reckoned to offer a more representative snapshot of the state of the industry. That said, it was the ninth consecutive month that this figure has been in decline.
The Office for National Statistics says that the 1% three-month on three-month fall in construction output was driven predominantly by the continued decline in private commercial work, which fell by 4.1% in January 2018.
Year-on-year, compared with January 2017, construction output decreased by 3.9% in January 2018, representing the biggest year-on-year decline since March 2013.
ONS has also released new orders statistics for the fourth quarter of 2017 (Oct-Dec). These show a fall of 25%, following a record high in the previous quarter, caused by the awarding of several massive contracts for HS2.
Despite the fall in Q4, total new orders increased by 4.3% in 2017 thanks to HS2, reaching £55,130 million, which was the highest total since 2008.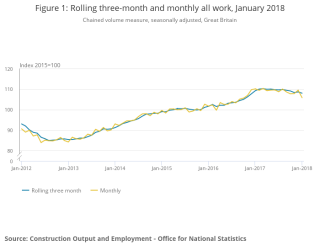 Rebecca Larkin, senior economist at the Construction Products Association, commented: "After three quarters of decline last year, it appears that 2018 is unlikely to herald a resurgence in industry growth. The fall in activity in January is likely to have been worsened by any pause on projects due to the liquidation of Carillion in the middle of the month. The snow disruption in February and March adds to the downside forces on construction during the opening quarter of the new year.
"The news from the new orders data in 2017 Q4 did little to improve the mood. Although the headline 25.0% quarterly fall was reflective of the spike caused by the award of HS2 contracts in the previous quarter, outside of infrastructure, new orders declined in all sectors, including a 2.3% fall in private housing, which has previously been a strong driver of construction growth."
Scape Group chief executive Mark Robinson said: "It is disappointing to see that construction output stalled again in January, as the toxic mix of higher costs, a weaker sterling, and an unsettled economic outlook caused the total value of work to fall to £12.6bn – down almost 4% on the year.
"However it is important to remember that there remains a very significant need for new schools, housing and infrastructure to meet the demands of the UK's ever expanding population. The government should use next week's spring statement to double-down on investment for growth. Quicker decisions from the government on more ambitious projects, such as the new Heathrow runway, would go some way to lift the mood in the industry."
Got a story? Email news@theconstructionindex.co.uk