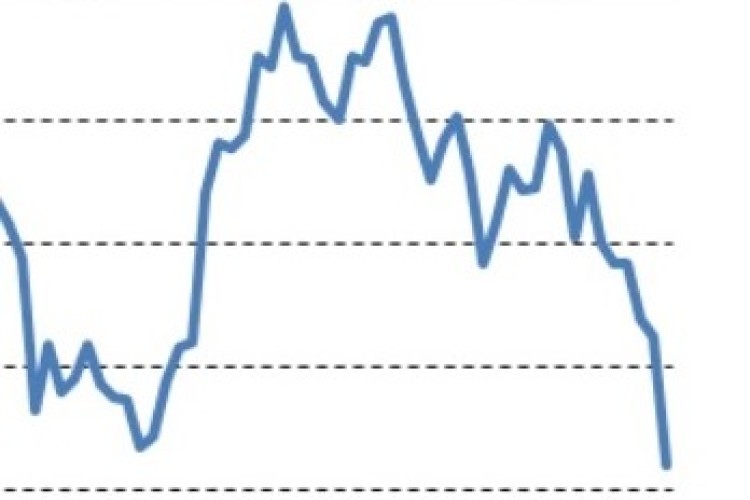 At 46.0 in June 2016, down from 51.2 in May, the seasonally adjusted Markit/CIPS UK construction PMI pointed to the weakest overall performance for exactly seven years.
Any PMI score above 50 indicates growth, and the higher the score the greater the growth; a score below 50 means contraction.
With 80% of survey responses received before the referendum result was announced on 24th June, the downturn in business activity was generally linked to uncertainty in the run-up to the big vote, rather than a response to the Leave outcome.
Residential construction was the worst performing sub-category of activity, with activity falling at the fastest pace since December 2012. Civil engineering activity remained broadly stable in June, while commercial building work saw a sharp loss of momentum and posted one of its weakest readings for six-and-a-half years.
Lower levels of activity were overwhelmingly linked to deteriorating order books and a corresponding lack of new work to replace completed projects. A number of firms commented on reluctance among clients to commence new contracts in the run-up to
the EU referendum, alongside ongoing uncertainty about the general economic outlook. Incoming new work has now fallen for two months running, and the latest reduction was the steepest since December 2012.
Construction firms responded to the deterioration in client demand by cutting back on input buying and exerting greater caution in terms of their staff recruitment. The decline in purchasing activity was also the fastest for almost six-and-a-half years.
Employment numbers continued to rise in June, but at one of the weakest rates seen over the past three years. At the same time, sub-contractor usage fell slightly and prices charged by sub-contractors increased at the slowest pace since July 2013.


Despite lower input buying, supply chain pressures persisted in June. Moreover, average lead-times from vendors lengthened to the greatest degree since the start of 2016, which survey respondents linked to transportation delays and lower stocks among suppliers.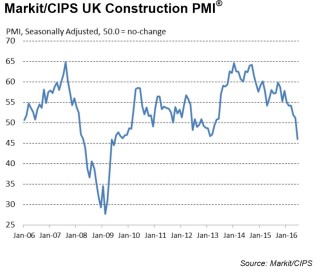 Tim Moore, Senior Economist at Markit and author of the Markit/CIPS Construction MI, said: "Widespread delays to investment decisions and housing market jitters saw the UK construction sector experience its worst month for seven years in June.
"Construction firms are at the sharp end of domestic economic uncertainty and jolts to investor sentiment, so trading conditions were always going to be challenging in the run-up to the EU referendum. However, the extent and speed of the downturn in the face of political and economic uncertainty is a clear warning flag for the wider post-Brexit economic outlook.
"House-building activity was worst affected by the uncertain business climate in June, very closely followed by commercial work. Civil engineering was the only stabilising influence, which underlines the need to shore up decision making on infrastructure projects and help offset any further loss of momentum across the wider construction sector.
"The vast majority of June's survey responses were received ahead of the EU referendum, so the worry is that the ensuing political turmoil will hit construction spending decisions for some time to come. As a result, the latest figures raise the likelihood that the Bank of England will inject additional stimulus this summer in an attempt to dampen the short-term impact of Brexit uncertainty on the real economy."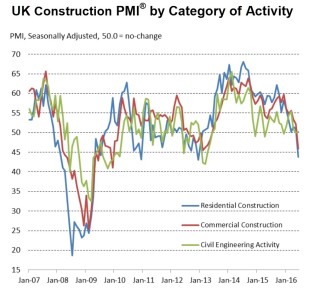 Got a story? Email news@theconstructionindex.co.uk