Despite construction output falling in the second, third and fourth quarters of 2017, however, there was sufficient growth in the first quarter to mean that 2017 as a whole still saw growth.
In the fourth quarter of 2017 construction output fell by 0.7%, or £283m. The ONS had forecast a 1% fall for the fourth quarter, but December saw a 1.6% upturn to soften the quarterly data.
The value of private commercial work in Q4, compared to Q3, fell by £324m. Private housing increased by £403m, reaching its highest level on record.
Despite experiencing three consecutive quarterly declines, construction output in Great Britain grew by 5.1% in 2017 as a whole due to strong growth at the end of 2016 and in the January to March quarter of 2017.
Construction output peaked in March 2017, reaching a level that was 31% higher than the lowest point of the last five years, January 2013. Following the month-on-month increase in December 2017, construction output is now 30% above the January 2013 low point.
The 1.6% month-on-month rise in construction output in December 2017 was a result of a 4% increase in all new work. In contrast, repair and maintenance fell 2.9% on the month. New work accounts for approximately two-thirds of all work, while repair and maintenance accounts for approximately one-third.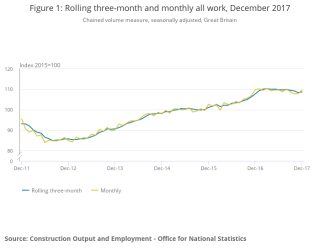 Rebecca Larkin, senior economist at the Construction Products Association, commented: "Overall growth in construction activity slowed significantly over the course of 2017, with output falling since Q2 and rising only 0.9% in annual terms in Q4. The quarter saw continued growth in private housing driven by five years of the Help to Buy equity loan, and early work on major projects such as the Thames Tideway Tunnel driving a 0.7% rise in infrastructure. However, even with the government's £7.4bn equity loan outlay so far and a further £10bn set aside, house-building activity could not offset the broad downturn in R&M, commercial and industrial.
"Underscoring the supportive effects of the government's Help to Buy policy, private housing output is now 28.8% higher than its pre-recession peak. By contrast, commercial output is 26.4% below its historic high, whilst industrial output is 28.5% lower." 
Michael Thirkettle, chief executive of construction consultant McBains, said: "While the third quarter of the financial year often sees a slowdown, today's figures show a continuing stagnation in output – likely to be in no small part due to UK developers still circumspect about what the Brexit deal will look like before they commit to further investment.  The falling value of the £ is still impacting on the cost of materials, further stifling large-scale development.
"The construction industry will be hoping the next set of figures for January give some New Year cheer, although the provisional outlook from other surveys is looking pessimistic while the 'Carillion effect' is also unknown – its liquidation could have a significant impact on the fortunes of tens of thousands of subcontractors."
Construction output main figures: December 2017, Great Britain

Seasonally adjusted, volume £ million and percentage change

 

Dec 2017 Volume
£ million

Dec 2017 v
Nov 2017

Dec 2017 v Dec 2016

Q4 2017 v
Q3 2017

Q4 2017 v Q4 2016

Total all work

13,058

1.6

-0.2

-0.7

0.9

Total all new work

8,593

4.0

1.4

0.0

1.4

Total repair and maintenance

4,465

-2.9

-3.2

-2.0

-0.2

New housing

 
 
 
 
 

Public

490

7.0

5.6

-0.8

4.4

Private

2,888

2.9

9.1

5.0

8.7

Other new work

 
 
 
 
 

Infrastructure

1,686

11.1

7.4

0.7

4.3

Excl infrastructure

 
 
 
 
 

Public

837

5.8

-10.1

-3.0

-10.3

Private industrial

340

-1.7

-8.4

-3.1

-4.0

Private commercial

2,352

0.4

-5.5

-4.4

-3.4

Repair and maintenance

 
 
 
 
 

Public housing

610

2.2

-7.7

-1.3

-4.8

Private housing

1,735

-6.9

-3.3

-1.7

2.6

Non-housing R&M

2,120

-0.7

-1.6

-2.4

-1.0

Source: Construction Output and Employment – Office for National Statistics
Got a story? Email news@theconstructionindex.co.uk