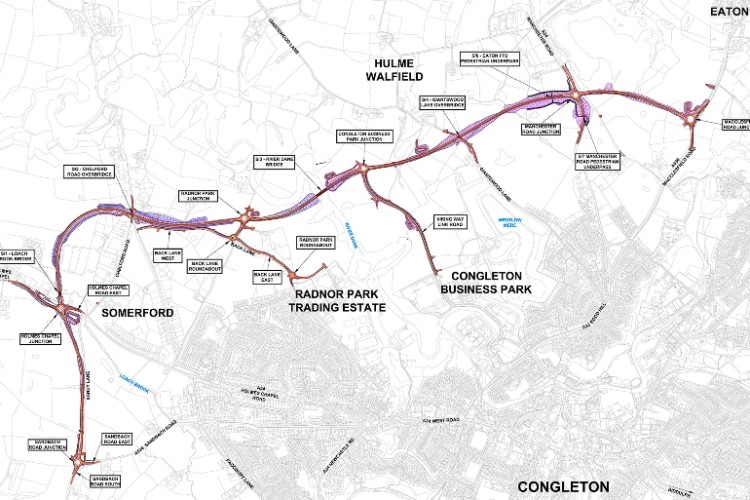 A 5.5km bypass will provide traffic relief for Congleton. It will join the A534 Sandbach Road to the west of Congleton with the A536 Macclesfield Road to the north of the town. Planning started in 2012, and the road is due to open in 2020. Jacobs is the council's consulting engineer.
The overall project is expected to cost £90m, including land assembly, but the main construction contract is estimated at £58m.
The road will be cut eight metres deep into mudstone in a 25-metre high escarpment before crossing the River Dane on an 85-metre long bridge and landing on a 12-metre high embankment founded on piled alluvium. There are two other road bridge crossings and two underpasses. The scheme also has 3.5km of realigned or new local roads and significant amounts of landscaping and environmental mitigation works to accommodate great crested newts, bats and ancient woodland.
The scheme is expected to bring economic and social regeneration to Congleton by supporting new development sites and improving access to jobs at Radnor Park Industrial Estate and Congleton Business Park.
The council is planning to shortlist five contractors from those indicating an interest by the initial 21st August deadline. Invitations to tender are expected to go out on 22nd September 2017.
The procurement documents are available at: www.the-chest.org.uk
Got a story? Email news@theconstructionindex.co.uk