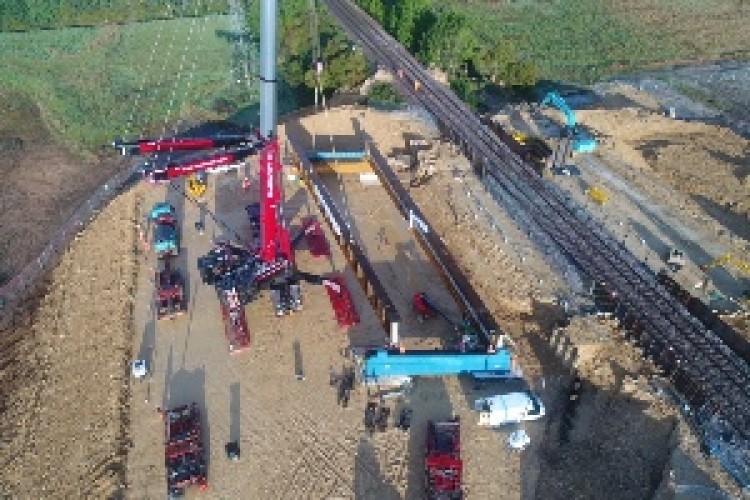 Galliford Try stepped into the project on an interim basis in January after original contractor Carillion went into liquidation.
The county council has now signed off Galliford Try's contract to undertake all remaining construction works for the A15 Lincoln Eastern Bypass.
Carilllion was handed a £96m contract by Lincolnshire County Council at the end of 2016 for the construction of a 7.5km single carriageway road to link the A158 Wragby Road roundabout to the A15 at Bracebridge Heath.
The road was supposed to open in December 2019 but the new completion date is May 2020. The expected cost has now escalated to £120m, with approximately £12m of extra costs associated with switching contractors and £12m down to other cost escalations, including inflation.
Richard Davies, county councillor in charge of highways, said: "Following the appointment of Galliford Try earlier this year for the first package of Eastern Bypass construction works, we're pleased to announce they will also be carrying out the remainder of the project.
"Since taking over from Carillion, Galliford has made great progress on-site, so we're excited to continue building this relationship as they oversee all of the milestones to come, including the construction of four new roundabouts, two major bridges and 7.5km of new road."

In addition to the Heighington Road bridge and Greetwell Road roundabout, Galliford Try will also be overseeing construction of the Hawthorn Road footbridge, South Delph footbridge and the River Witham Bridge, including its fabrication, supply and assembly.
Cllr Davies added: "There are always unknowns when taking on a project of this scale, but we now have a much clearer picture of where the project stands. At this stage, the total cost of the project is now expected to be £120m, with about half the new costs coming as a result of changing contractor and the remainder from additional archaeological spend, additional land acquisition costs and inflation.
"Also, another outcome of Carillion's collapse is that the scheme's new expected completion date is May 2020.
"We know this isn't ideal, as were hoping for the bypass to be open in December 2019, but we have done all we can to keep the project moving in the right direction. By exploring all options and focusing our efforts on getting the best value for money, we've been able to keep the time delay to a minimum, despite the situation we were cast into.
"The Lincoln Eastern Bypass is the city's biggest road project in decades, and we're glad to have now reached a resolution to this situation so we can concentrate fully on delivering a scheme that will offer a wide range of benefits to those traveling in and around Lincoln."
The county council is applying for additional funding from the Department for Transport, which has already allocated £50m, and from Historic England, but is resigned to funding at least some of the extra scheme costs itself.
Got a story? Email news@theconstructionindex.co.uk