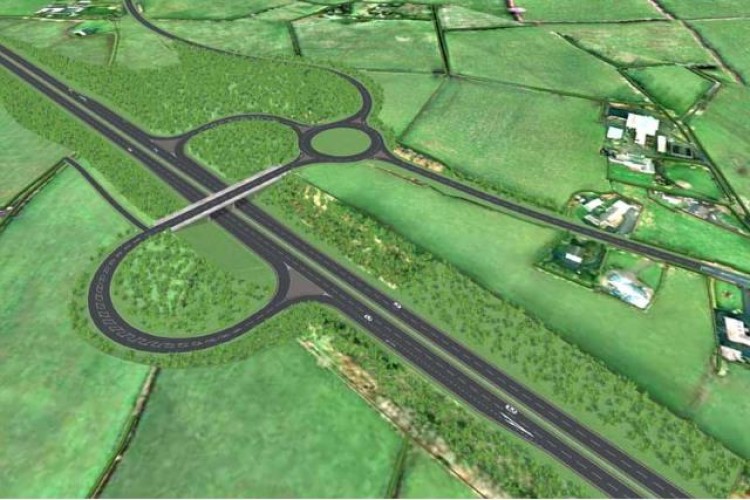 Contractor Graham/Farrans Joint Venture was expecting to start work on the A6 Randalstown-Castledawson dualling scheme in October.
Environmentalists opposed the project and one of them, Chris Murphy, has secured High Court permission to challenge the legality of the site investigations and ecological surveys. The judge said that there was confusion over habitat checks and assessments around Lough Neagh and Lough Beg and he questioned whether the results could have halted the project.
There will now be a full legal hearing, expected in early 2017.
The A6 is the main road between Belfast and Londonderry. The Randalstown-Castledawson upgrade involves 14km of new dual carriageway being constructed in two sections: 7.3km from the end of the M22 at Randalstown to the Toome Bypass; and 6.7km from Toome Bypass to the Castledawson roundabout.
Northern Ireland infrastructure minister Chris Hazzard said after the judge's ruling: "The judgement today has ruled out five of the six grounds for judicial review and means that the substantive case will be heard on the one issue relating to the habitats directive.

"While I had hoped that we would be able to proceed with this strategically important project, we will play our part to ensure that as Justice Maguire said, there will be a speedy date for a full hearing and I remain confident that we will be ultimately successful.
"I am absolutely committed to the construction of the A6, and will now explore our options for commencing construction on the unchallenged section of this project."
The Freight Transport Association expressed disappointment in the delay. Policy manager Seamus Leheny said: "Questions must be asked of the Department for Infrastructure, specifically those involved in the scheme, as to why this has happened – and in similar circumstances to a legal challenge upheld against the other main road to L'Derry, the A5, a few years ago.
"The A6 is the main strategic road for transporting commercial goods between L'Derry, mid-Ulster and the wider northwest and it is vital that the scheme gets back on track as soon as possible to ensure the economic wellbeing of local industry and of commercial vehicle operators using this key transport corridor."
Got a story? Email news@theconstructionindex.co.uk