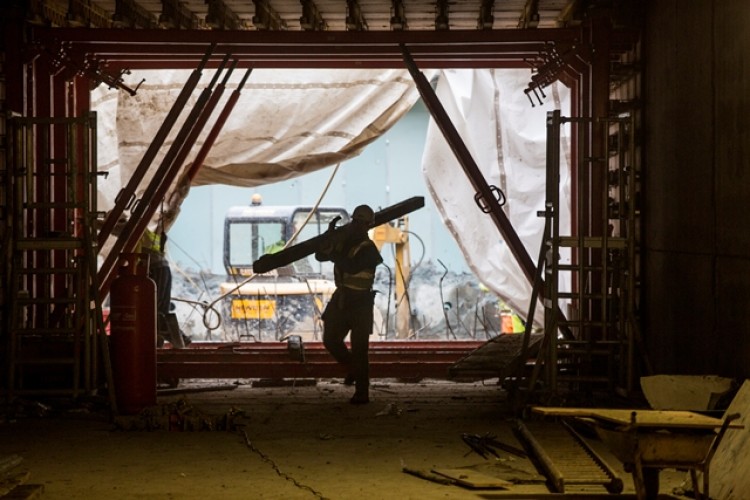 While labour shortages are expected to drive up workers' pay, they could also jeopardise the profitability of employers, leading to more company collapses.
Latest quarterly analysis from quantity surveying firm Turner & Townsend reports that UK construction businesses operated at an average of 86.2% capacity in the first quarter of 2018 – up from 84.3% in Q1 2017.  This comes despite Office for National Statistics (ONS) data showing construction output fell by 0.8% in the first quarter of 2018 – the sharpest decline since 2012.
Turner & Townsend's predicts tender price inflation for the infrastructure sector will reach 3.8%; for building projects 1.7% inflation is anticipated.  The labour cost element is forecast to rise by an average of 4.0% over the next 12 months, risking contractor margins as projects compete for limited labour.
Official ONS data shows that the number of foreign EU-born workers as a share of the construction workforce fell by one percentage point between the time of the EU referendum and the end of 2017. 
Statistics also show that migrant workers are substantially younger, on average, than indigenous UK-born construction worker.

With the highest construction activity and heaviest reliance on foreign labour, the London market is especially exposed.  At the time of the EU referendum, 49.6% of the capital's construction workforce had been born abroad.  This has since dropped by seven percentage points – the fastest 18-month decline seen in 15 years.
The rest of the UK is less exposed to this Brexodus but nonetheless faces a separate skills challenge from an ageing workforce.  While the northeast of England has a migrant workforce of just 5.9%, more than half (53.9%) are aged 45 or over.
Paul Connolly, managing director of cost management at Turner & Townsend, said: "Mounting a successful recruitment fightback has never been so important, but to do this the sector needs full-throated support from employers – beyond existing contributions through initiatives such as the apprenticeship levy.  Contractors need to ensure that the skills initiatives and incentives are in place to attract a modern construction workforce and make sure we have the capacity and talent in the right areas.
"But it's going to take time to tackle this demographic timebomb. At a project level, the industry needs to be arming itself with strategies to mitigate wage inflation and drive maximum productivity from a diminishing labour pool.  We need to be following a pre-emptive approach, adopting lean thinking to streamline project processes from design through to delivery, and leveraging the full benefits of technologies such as off-site construction.  Only by increasing productivity, protecting margins and attracting new talent will the construction industry be able to deliver the game-changing infrastructure projects and housing the UK needs."
To read the full report visit: www.turnerandtownsend.com/en/insights
Got a story? Email news@theconstructionindex.co.uk