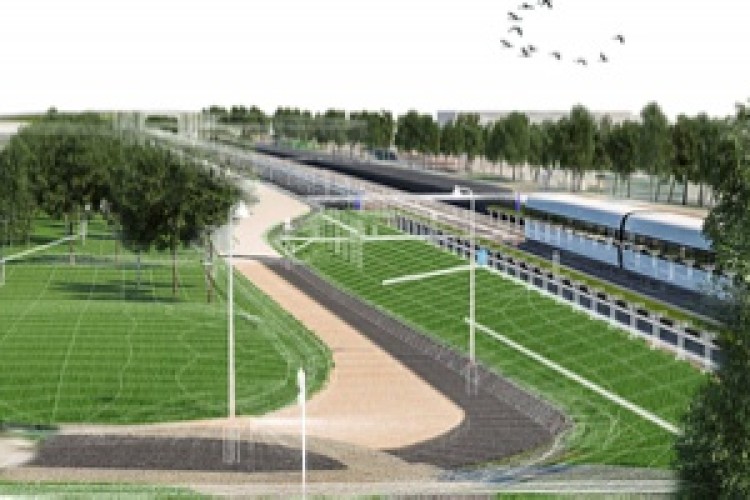 The model developed by Cowi is accessible to all disciplines working on its ongoing railway projects. he benefits are more flexibility, time savings and smoother cooperation, said the firm.
The model can contain real-time information and 3D models across disciplines and from all contributing parties, such as the contractor, suppliers and Cowi departments.
One of the first projects to use the model is the Ringsted-Fehmarn railway project in Denmark. "3D elements provided by standard programs are often insufficient, because they don't capture conflicting interfaces across disciplines," said Jesper Sørensen, Cowi's BIM manager on the project. "This led us to develop a collaboration model, which integrates bridge, road, water, installations and other relevant disciplines in full 3D. It en​ables us to create a representation that is so accurate that all interface conflicts can be identified, and the benefits are more flexibility, time savings and smoother cooperation."
The long-term plan is for Cowi's BIM collaboration model to be able to handle 24 BIM parameters. The Ringsted-Nykøbing Falster railway section applies seven of them - one of them is 3D coordination​.

"3D coordination offers much better possibilities for handling interface conflicts, because many conflicts are not identified until elements are shown at the elevation, where they will actually be located. Such conflicts are not possible to detect in 2D design," said Sørensen.
To facilitate the work processes and dialogue between the parties, design reviews with Rail Net Denmark and the contractor are carried out in 3D real-time, meaning that corrections and additions are entered directly into the model. Furthermore, Cowi intends to integrate the fourth dimension – time –  which has proven highly successful in the buildings sector on test projects.
Although the new software offers a range of benefits to a project, it also puts some new demands on the project members, according to the firm. To optimise BIM, it is essential that all parties delivering data to the project follow the defined file structures, said Sørensen. "In the perfect BIM model, everyone would deliver their design in 3D – everything from bridges to electrical installations and wildlife fences. In addition, it's vital to have everything completed well in advance of the deadline in order to have sufficient time to merge the data and correct any interface conflicts."
Søren Husted, vice president of Cowi's department of railways and metros, is certain that BIM will have a massive impact on the railway industry, both in terms of quality and execution time. But he believes there is a need for a common model and common delivery standards. "We need that if the industry is to maximise the value of BIM. If a common model and common standards were in place, you would only have to do things once, from planning to operation, and you would avoid losing significant value every time the project changes hands," he said. "We've created our own collaboration model, but as soon as a common standard develops, Cowi will adopt it. And we're happy to contribute our knowledge to it."
Got a story? Email news@theconstructionindex.co.uk