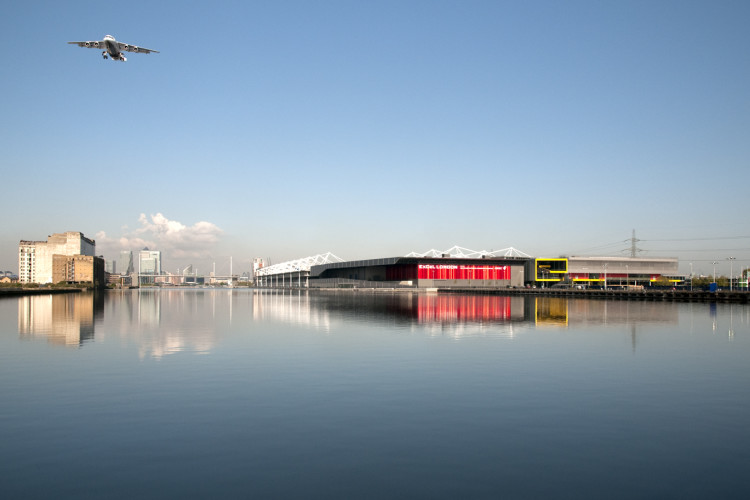 Designed by Grimshaw Architects and built by main contractor Sir Robert McAlpine, the £160 million extension to ExCeL has seen it become London's second largest Olympic venue. With a huge amount of experience in designing striking yet highly effective large span buildings, Grimshaw Architects created a building that not only offers vast amounts of flexible space, but also a building that has impact and intrigue. This is emphasized by the building's large spiral, which slices through the structure, creating a focal point along with a bridging element, an entrance vestibule, a space for restaurants and a breakout space.
The structure of the extension features a number of different elements including a 5 metre high brick base above which a number of different cladding finishes are used. These included metal cladding, curtain walling, polycarbonate and an innovative aluminium mesh. For the creation of the brick base, CPI EuroMix provided the mortar.
Working with brickwork contractor Lyons & Anott, CPI EuroMix provided 850 tonnes of natural coloured mortar which was used to create a cavity wall for the buildings new extension. The cavity wall features high performance PIR insulation from Celotex to create a thermally efficient building. 
To ensure maximum efficiency, CPI EuroMix provided its innovative silo mixing station to the project. Capable of containing 35 tonnes of dry mortar, the system ensures a constant supply of material and minimises waste. Every silo, connected to a power and water supply, contains high grade mortar that is mixed exactly and dispensed at the touch of a button. This ensures onsite quality control and optimum onsite efficiencies.  

The system is also space saving as once installed onsite in a convenient location it takes up much less area than an equivalent amount of Readymix tubs or skips of raw materials. It also helps to reduce the need for constant deliveries, essential to keep the carbon footprint of a project down and also minimise traffic disruptions. 
CPI EuroMix produces a range of high quality mortars and renders for projects of any size. Certified to ISO9001 standards of quality control, they are available in a wide range of standard colours as well as bespoke tones for individual designs or matching existing mortars. 
Now complete, the extension project has taken ExCeL London to around 100,000 sqm of flexible flat floor exhibition and conference space. The 32,500 sqm column free extension offers exhibition space, with the potential to house a 5,000 seated convention venue. It represents a major investment in providing event facilities of world scale in London, as well as supporting the capital's ambition to host an increasing number of high profile domestic and international shows.
Got a story? Email news@theconstructionindex.co.uk