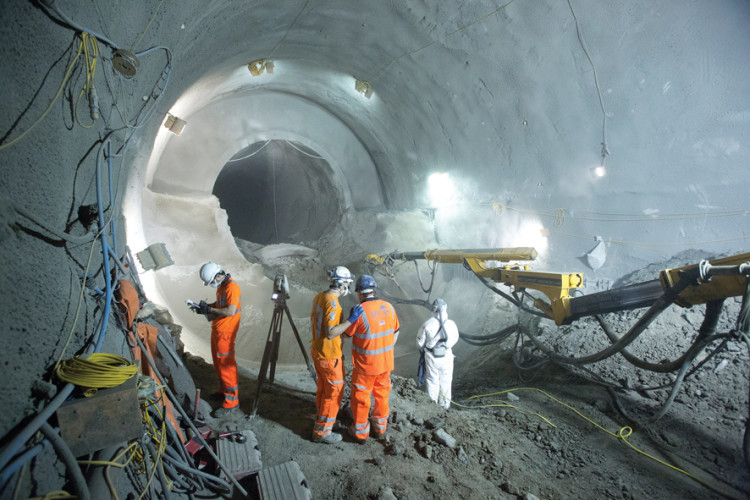 It is no surprise that a programme as enormous as Crossrail generates friendly rivalry among its site teams. Europe's largest construction project employs around 10,000 workers on more than 40 construction sites. The route is sprinkled with fiendishly complex civil engineering schemes. So competition for the limelight is intense.
"The other project directors don't like it when I say this, because everyone wants their project to be the most important," admits Crossrail project director Nisrine Chartouny, "but Farringdon really is the beating heart of the Crossrail programme." 
Her colleagues may reluctantly have to agree with her. Geographically, Farringdon sits almost at the centre of the Crossrail route. It is the meeting point for four tunnelling drives: earth pressure balanced tunnel boring machines (TBMs) Phyllis and Ada arrived last year, having completed the twin western tunnel routes across central London from Royal Oak. TBMs Victoria and Elizabeth will arrive in early 2015 after an exhausting 8.3km trek - the longest drive on the Crossrail project - from Limmo Peninsula near Canning Town.
Farringdon is also a challenging location: deliveries must negotiate the narrow and bustling lanes that are lined with gourmet shops and restaurants; Smithfield meat market sits between the two major excavations; the underground lines are alarmingly close, and the old almshouse and the former medieval monastery of Charterhouse is a near neighbour.
When it opens in 2018, Farringdon will become one of Britain's busiest interchanges, with 140 trains passing through it every hour and an anticipated 150,000 passengers per day. The station provides access to three rail networks: it is where the east-west Crossrail line meets the north-south overground line Thameslink. And it also ties in with London Underground's Circle, Metropolitan and Hammersmith & City lines. There will even be a link to neighbouring Barbican station.
"We're connecting north, south, east and west," explains Chartouny.
There is an east-meets-west feeling on the project itself, since at Farringdon the steady London clays that were so ideal for tunneling in Crossrail's central London section begin to give way to the less predictable ground conditions found further east on the project. Here, as well as London clay, you can find pockets of Lambeth Group soils (gravels, sands, silts and clays) interspersed with water lenses.
This, along with the challenging schedule, has led contractor Bam/Ferrovial/Kier joint venture (BFK) to adopt contrasting construction methods across the site: the west ticket hall is being excavated using 'bottom up' construction methods, whilst the east ticket hall, next to Barbican station, is taking shape through 'top down' construction techniques.
Speed was one of the main reasons for BFK's decision to construct the 33m-deep west ticket hall shaft using bottom up methods:
"We wanted to get to the bottom of the shaft as quickly as possible in order to make way for the tunnel boring machines," comments BFK construction director Jose Garcia. TBMs Phyllis and Ada were crucial to the programme as they were to be used to bore pilot tunnels in preparation for the new platforms.
Valuable time was saved through close collaboration with Costain/Laing O'Rourke JV, the main contractor for the new Thameslink station at Farringdon. The Thameslink station opened in December 2011 and for a while both JVs were working side-by-side.
Garcia explains that, as the Thameslink station entrance will ultimately be a gateway to Crossrail's west ticket hall, it made sense to hand over some of the work. "Costain/Laing O'Rourke did some of the foundation works and also the lift shaft," he says.
Phyllis and Ada arrived at Farringdon in November 2013 and January 2014 respectively. Now that they have passed through the west ticket hall, the team is slowly building upwards.
"We have reached minus 6 level, roughly 25m below ground," says Chartouny. A mere 300m away, the story of the east ticket hall is very different. Here the ground is less stable, and there were real risks that settlement could disrupt the Hammersmith & City line which runs approximately 5m from the side of the excavation.
"When you are building top-down, you usually end up with less settlement. That was one of the drivers for choosing [this method]," says Chartouny. It's an approach that is being carried out under tough conditions.

"We're doing major civil engineering on a postage stamp," comments site agent Tom Moore gazing down at the cramped excavation.
Twelve giant propping beams – up to 1.8m diameter - are supporting the east ticket hall's 25m x 25m trapezoidal shaft, which will eventually be dug to a depth of 45m. A temporary platform, in one corner of the excavation close to Smithfield Market, provides the only storage space.
Until recently, an excavator with a telescopic grab was positioned on the platform to lift out the muck. Now that the shaft is 30m deep, the excavator's telescopic arm can no longer reach, and a mobile crane has moved in to take its place. The crane lowers down a large skip through mining holes in the slabs. The skip is then filled by mini excavator.
"We just have one operator digging out the shaft at the moment," Moore explains. "He  has to dig down vertically, and then extend out under the slab to create room for other mini excavators." On a timetable this tight, the team has been working 24 hours a day. "The maximum we've excavated in a 24 hour period was 78 wagons, each wagon taking away 20 tonnes," Moore comments. To minimise risk to workers in the shaft, BFK is pioneering a new safety measure, using a camera attached to the hook block of the crane which relays wireless pictures back to the cab. Although this technology has appeared in Europe and the USA, Chartouny  believes that this is the first time it has been used in the UK.
"It helps the crane operator see vertically," adds Moore, "and it can also help when manoeuvring loads around the props." He explains that the "hook-cam" has not removed the responsibilities of slingers on site, but does help the crane driver position his load without having to get a slinger directly beneath him.
"We always have an exclusion zone for working, but it is very small because the site is so constrained. The 'hook-cam' enables the slingers to stand a lot further back."
Pouring each of the seven slabs for the east ticket hall is a nerve-wracking operation. Each 1m-thick slab contains 240 tonnes of rebar and 600cm3 of concrete. On a pour this size four pumps would normally be required. Here, because space is so tight, BFK is only using two pumps. "We've been pouring each slab in one go. Our last continuous pour took 12 hours," says Moore. "You have to plan it very carefully."
He adds that the pour for the 2.5m-thick base slab, likely to take place in October, will be in two phases. "We'd like to do it in one [pour] but we just can't get the wagons."
In this excavation, mitigation works have been painstakingly carried out to protect the Grade II listed Lindsey Street Bridge, which is close to an escalator barrel for the east ticket hall.
Sheet piling has been installed in the excavation, and the bridge has been underpinned and jacked up. A total of 58 jacks will be used to monitor any adverse settlement.
"The work on this bridge has been really outstanding, especially considering such difficult ground conditions. It has gone really smoothly," says Chartouny. Garcia adds that a total of 2,500 devices have been installed to monitor the ground for the slightest movements. And compensation grouting is being carried out on a grand scale. 
Five grouting shafts have been sunk around the project and grout is injected into the ground through a series of smalldiameter horizontal underground pipes known as tubes-a-manchette (TAM). "Just over 18,000m of TAMs have been drilled at Farringdon,' Garcia says. "The longest extends up to 85m, to meet the tolerances required."
Chartouny adds that the programme is currently on schedule and the team will be ready to meet the TBMs Victoria and  Elizabeth when they arrive early next year. In 2015 work is expected to start on a connecting bridge between Farringdon's eastern ticket hall and Barbican station, as well as a lift shaft to provide step-free access between the two buildings. Although this part of the project is still in the planning phase, Barbican's platforms already bear the yellow spray-paint marks for the proposed bridge footings. The Crossrail team is clearly leaving nothing to chance.
This article first appeared in the September 2014 issue of The Construction Index magazine. To read the full magazine online, click here.
To receive you own hard copy each month in traditional paper format, you can subscribe at http://www.theconstructionindex.co.uk/magazine#
Got a story? Email news@theconstructionindex.co.uk