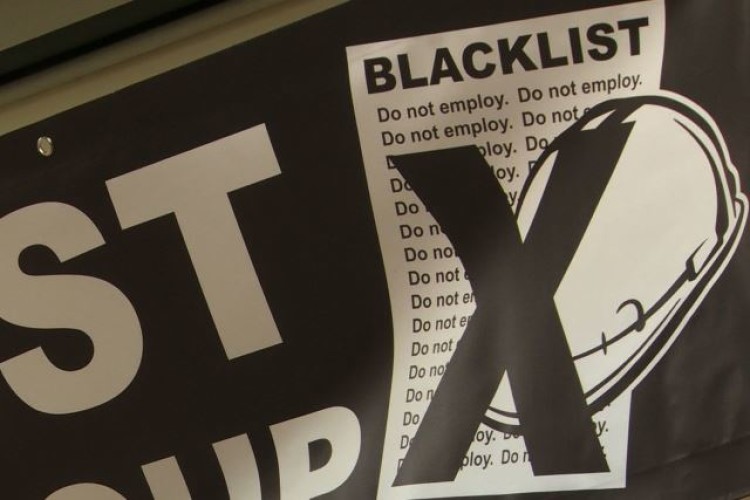 Mr Umunna claims to have incriminating documentation that certain construction workers were blacklisted from working on the Crossrail project for reasons other than their ability to do the job. He has also sent the documents to the government minister responsible for business.
Speaking on the issues at Crossrail, Mr Umunna told a parliamentary Westminster Hall debate: "The first case concerns emails that I have been passed which were circulated between contractors and the employee relations department at Crossrail which detail questionable surveillance of workers that took place at a peaceful demonstration at a Crossrail site in 2016.
"The evidence which I will supply after this debate to the minister illustrates that a number of construction workers were being closely watched there and sensitive personal information was being collected in relation to them.
"Two of the workers concerned who were subject to that surveillance have since sought to obtain further employment on Crossrail and did so through agencies advertising positions. However as soon as they relayed their names there was a delay and then they were subsequently given an excuse as to why the positions have been filled."
His evidence suggests that trades union activism remains an obstacle to securing work in construction, despite the supposed collapse of the Economic League and Consulting Association, funded and organised by major contractors to blacklist those they considered 'undesirable'.
Mr Umunna told his fellow MPs: "One subcontractor has actually told Unite that the consequences of him employing a Unite member would be the refusal of future work and for obvious reasons the sub-contractor does not wish to disclose their identity."
Mr Umunna raised a second case of an electrician, who has been seeking work in the industry since "raising a grievance whilst working on Crossrail. He has since applied for hundreds of job vacancies almost always being turned down."
The worker served Crossrail with a subject access request and Mr Umunna has been given a copy of those documents. Mr Umunna said: "They reveal Crossrail and three of its contractors exchanging sensitive personal data concerning this individual's previous employment, and the issues and grievances he had raised there. On the face of it, the data appears to be processed for the purpose of determining the individual's suitability for employment related to his trade union activities. The very strong inference from the documents is that some kind of vetting operation was in operation between Crossrail, its contractors and the agencies involved."
 Mr Umunna promised to pass all the information on contemporary blacklisting to Margot James, the business minister who attended the debate.

The Unite union has also sent documents to the Information Commissioners Office, concerning the way in which at least some employers on the Crossrail project have disseminated information of anyone demonstrating outside their sites.
The ICO has said the "collection of this type of data is potentially excessive". In the view of the ICO "it raises the possibility that surveillance is being undertaken without appropriate checks and balances in place".
Unite, the UK's largest construction union, has called on the government to barr blacklisters from public sector contracts and to hold a full public inquiry into the issue.
Commentating on Mr Umunna's exposé, Unite assistant general secretary Gail Cartmail said: "Contemporary blacklisting is occurring in construction. The companies concerned have learned nothing from the Consulting Association scandal.
"Crossrail and its major contractors have been caught red-handed blacklisting workers. This is a publicly funded project and the government can no longer pretend this isn't happening. They have always claimed they are opposed to blacklisting, now is their opportunity to act.
"Workers are continuing to have their lives ruined simply for being a member of a union, standing up for their rights or raising safety concerns. The companies concerned believe that they are untouchable.
"Construction will only finally rid itself of the stench of blacklisting when effective laws are introduced which bar blacklisters from public sector contracts, effective anti-blacklisting laws are introduced which make it a criminal offence and there is a full public inquiry into the practice."
The Crossrail project client organisation sought to distance itself from the alleged actions of some of its contractors. A spokesperson for Crossrail said: "Crossrail Limited is not aware of, and has seen no evidence of, blacklisting of any kind in connection with the Crossrail project. Crossrail seeks to maintain good relations with the trades unions and meets with them on a regular basis. In our recent meetings with Unite no such concerns have been raised with us. Indeed Unite has previously issued a joint statement with a Crossrail contractor noting that there has been no contravention of the blacklisting regulations on Crossrail."
Got a story? Email news@theconstructionindex.co.uk