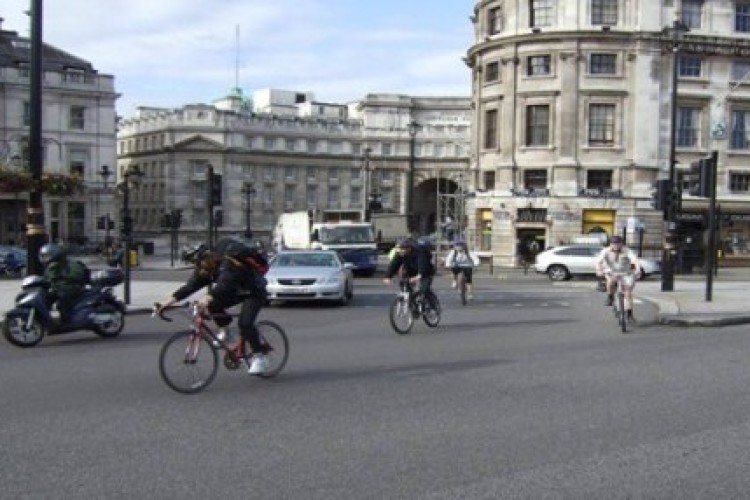 Any lorry driver working regularly on the project is required to complete the training programme. A further 3,000 drivers are expected to go on the course over the next few years.
The Crossrail lorry driver induction training programme has been specifically developed for frequent lorry drivers working on the project. Its aim is to ensure that drivers know how to drive carefully near cyclists and other vulnerable road users, particularly in central London.
The course was developed in consultation with cycling and road safety campaign groups.
The one day course, delivered by Havering College in conjunction with Crossrail, is designed to provide attitude and behaviour training to professional lorry drivers of regular Crossrail vehicles over 3.5t. This includes drivers of concrete mixers, tippers, articulated low loaders and plant hire vehicles. Each course is attended by up to 20 drivers from a range of contractors.
Other measures specified by Crossrail to promote road safety include safety devices like Fresnel lenses and side scan equipment to be fitted to HGVs so that the driver to see into blind spots. Vehicles must also carry signs to warn cyclists.

Crossrail chairman Terry Morgan said: "The safety of all road users is of paramount importance to us. This is why we introduced lorry driver training ahead of intensive station construction in central London beginning later this year. Crossrail will maximise the use of the capital's rivers and railways to transport materials, but there will always remain a need for lorries to access our construction sites. We insist that contractors' vehicles are fitted with safety devices like Fresnel lenses and side scan equipment and that lorries travel on designated local traffic routes agreed with local authorities."
Last year Crossrail changed the tunnelling strategy on the western tunnelled section to build tunnels first and then excavate the stations. This change enables excavated material to travel through the new tunnels and emerge at the Royal Oak Portal where freight trains will carry the excavated material to Northfleet in Kent. More than 85% of the transportation of excavated material will now be by rail and water, significantly reducing the level of Crossrail lorry movements through the busy streets of London.
Crossrail lorries are required to travel on designated local routes in central London, approved by the relevant local authority under the Crossrail Act.
Crossrail is working with TfL to ensure all contractors working on the project become 'bronze' members of the Freight Operator Recognition Scheme (FORS). The scheme encourages safe and sustainable transport operations and each member undergoes a safety inspection and audit. To date more than 100 companies in Crossrail supply chains have signed up to FORS.
Got a story? Email news@theconstructionindex.co.uk