Crossrail's eastern tunnelling machines, named Elizabeth and Victoria, were launched from the Limmo site near Canning Town towards the end of last year to create 8.3km of tunnels from east London to Farringdon – Crossrail's longest tunnel section. A total of 42km of tunnels beneath central London will be built in total for Crossrail. More than 12km are now bored.
Over the past six months, both machines have been driving the first section of new tunnels beneath the River Lea and east London towards the new Canary Wharf Crossrail station. Elizabeth was the first to arrive and has now broken through into the Canary Wharf station box 28m underground.
Crossrail chief executive Andrew Wolstenholme said: "The Canary Wharf tunnelling breakthrough is our biggest milestone so far and a symbolic moment that shows the scale of the essential new transport links Crossrail is delivering. We are making good progress in building world-class new stations and a marathon of tunnels beneath London with the entire Crossrail project now more than a third complete. We are on track to deliver Europe's biggest construction project on time and on budget."
Tunnelling machine Elizabeth will now undergo maintenance inside the Canary Wharf station box before resuming tunnelling towards central London. Sister machine Victoria is due to breakthrough into the station in the next few weeks.
Contractor on this section is Dragados Sisk Joint Venture.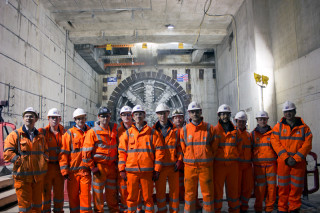 Crossrail's construction started just over four years ago, on 15 May 2009, with the start of work on Canary Wharf station. Tunnelling work started one year ago, in May 2012. The western tunnelling machines Phyllis and Ada have now reached Tottenham Court Road and Bond Street respectively. In southeast London, tunnelling machine Sophia has reached the Woolwich station box with sister machine Mary now underway from Plumstead.
Crossrail is moving into the peak of construction between now and 2015, with the new train service set to start running in 2018.
The final two TBMs will be launched later this year to begin further tunnelling work in Pudding Mill Lane, east London.
Work is nearing completion on the 34.5m-deep Stepney Green shaft, one of Europe's largest underground caverns. The two eastern TBMs  will pass through the shaft later this year
Got a story? Email news@theconstructionindex.co.uk